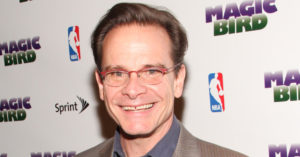 By Geoffrey Huchel
TV, film and stage actor Peter Scolari, known to audiences for his roles on BOSOM BUDDIES and NEWHART passed away October 22, 2021 after a two year battle with cancer. He was 66.
Scolari began his on-screen career in the late 1970s, appearing in a guest-role on the series ANGIE (1979-1980) and in multiple episodes of the short-lived sitcom GOODTIME GIRLS (1980) and then landed his big break co-starring opposite Tom Hanks in the sitcom BOSOM BUDDIES (1980-1982). Scolari playing Henry Desmond for the show's entire two-seasons run. After BOSOM BUDDIES ended Scolari and Hanks remained close friends. Scolari co-starred on NEWHART (1982-1990), playing Michael Harris from 1984-1990. He received an Emmy Award for Outstanding Guest Actor in a Comedy Series his work on the show.
Scolari's additional TV and film credits include REMINGTON STEELE (1982-1987), HAPPY DAYS (1974-1984), CARPOOL (1983), HOTEL (1983-1988), FAMILY TIES (1982-1989), THE LOVE BOAT (1977-1987), THE TWILIGHT ZONE (1985-1989), THE RYAN WHITE STORY (1989), PERRY MASON: THE CASE OF THE GLASS COFFIN (1991), EMPTY NEST (1988-1995), LOIS & CLARK: THE NEW ADVENTURES OF SUPERMAN (1993-1997), DAVE'S WORLD (1993-1997), THAT THING YOU DO (1996), THE DREW CAREY SHOW (1995-2004), THE NANNY (1993-1999), HONEY, I SHRUNK THE KIDS: THE TV SHOW (1997-2000), ALLY MCBEAL (1997-2003), ER (1994-2009), THE WEST WING (1999-2006), THE POLAR EXPRESS (2004), BIG LOVE (2006-2011), WHITE COLLAR (2009-2014), GOTHAM (2014-2019), MADOFF (2016), GIRLS (2012-2017) BLUE BLOODS (2010-) and EVIL (2019-).
Scolari appeared in Broadway productions of "Wicked", "Sly Fox", "Hairspray", and "Lucky Guy", which reunited him with his BOSOM BUDDIES co-star Tom Hanks. His other stage credits include "Old Man Joseph and His Family", "The Exonerated", "The Music Man" and "Bronx Bombers", portraying Yogi Berra.
Ringside Report sends our condolences to Peter Scolari's family during their time of grief.
Contact the Feature Writers