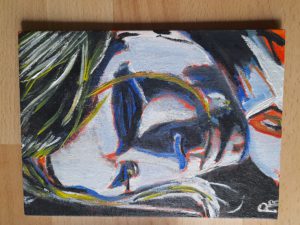 By Radical Rhymes
I never realized until very recently how much I love and need to create art. It isn't for any other reason than that I feel I must. It's a compulsion, and not one of the less healthy ones I've struggled with my entire life.
I feel alive when I draw or paint, as if I am in some kind of union with the cosmos, it's one of the few spaces, places or activities that take me into a zone. Not always of course, sometimes, depending on the situation I find myself in, or the subject matter I'm working on, it can be trying, even laborious. But it is still a sacred thing for me.
What feels most electric is to work fast, without fear or doubt, to get the lines and shapes down and then to find the colours. That is not always easy. At first it might seem green, but in the end there's a purple highlight or sheen. Others may not see it, but I always do.
For me it's mainly the oranges and purples. I see them everywhere, in everything. But the most important thing about using colour is to channel vibrancy, energy, life. To capture not what you see, but what you FEEL.
Once, I would have dismissed, perhaps even ridiculed the work I do now, but that is because I was locked into the two deadly traps that kill creativity – fear and approval.
In the past I wanted to produce hyperrealism, to replicate exactly what I saw at first glance, and I did. That didn't mean using grids or lines – that feels very false to me – but it did mean painstaking attention to detail. Why? Because I was afraid to fail, and I constantly sought approval. Those things are not as potent for me now. Thankfully.
A woman recently told me – in a very poorly constructed rhyme – that she hated my art. That hurt for a while, but in the end that's okay, it wasn't meant for her, it was meant for me, and if other people like it then that's the icing we all enjoy.
My nature, partly defined by my mental health problems, is to do and do more. Even if I had the luxury of real studio space and vast canvases, I would fill them rapidly because I am painting my emotional world, letting what's inside touch the outside in two directions. My work is a two-way conduit of my existence.
So, my advice to all artists is to draw and paint what you feel. That may require you to use grids or lines or reproduce absolutely what you see. Good! As long as it comes from the depths of your soul and is not simply about staving off fear, or seeking approval. Approval is something you can never control.
Paint brave, paint free…
Radical Rhymes is a professional artist working with a range of media – predominantly animal/human portraits and landscapes – including, most recently, hand painted furniture. You can see his work on Instagram Radicalrhymes1969 or on Twitter @RhymesRadical.
For commissions, please contact him on Twitter via Direct Message or by email at: radicalrhymes@outlook.com His work is also available to buy on Etsy
Contact the Feature Writers