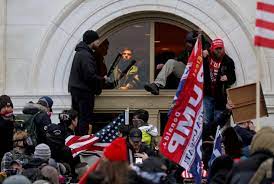 By Nikki Slusher
It's not unusual for Donald Trump to keep things on the down low. There's been his numerous affairs with women like playmate Karen McDougal and adult film star Stormy Daniels. There's been his close relationship to super predator Jeffrey Epstein. Most notoriously there's his tax returns which are at the center of a massive investigation into his personal and business endeavors, and the unpaid taxes on these items. Any reasonable person would agree that they too would try to hide such circumstances to minimize controversy and prevent a public spectacle; the latter being one he hasn't been able to stay away from.
But what is in the National Archives that is so damaging to Trump and his inner circle that has him flustered to the point that he actually thinks President Joe Biden would grant him executive privilege after everything that's happened since Biden's announcement for his presidential bid? After the last five years, what could possibly come out that's worse than everything we already know? Well now we have an idea. Per multiple news outlets, the National Archives have given a sworn declaration of what the documents contained which detail specifics into what Trump is trying to keep a secret. The court filings, which were done late at night, include over 700 pages from handwritten notes to draft documents. Also included are the daily logs of his advisors related to January 6.
Since the committee's formation following the Capitol riot/insurrection — which was really just an out of hand NA/AA meeting — Trump has consistently fought their efforts and claims executive privilege every chance he gets. The House has told the federal court that he has no right to keep these documents confidential as they imperative to the committee's role in analyzing and reconstructing what role Trump and friends had in trying to undermine the 2020 election results because he didn't like them. Congressional investigators have relentlessly worked to obtain copies of these records from the National Archives, even with Trump's attempts to block their every move. The House and Biden administration seem to be in agreement, however, which shows a rare inter-branch alignment that opposes a former commander-in-chief-that only happens once in an orange moon (I know it's a cheesy president joke).
Included in the National Archives filing are as follows: handwritten memos from Trump's chief-of-staff Mark Meadows, then WH Press Sec. Kayleigh McEnemy, and a WH lawyer who had notes on how to undermine the election, both Trump and former VP Mike Pence's call logs, and White House visitor records. In Meadows' notes alone, three are handwritten about the events regarding Jan. 6 and two pages that list multiple briefings and "perfect" phone calls about the certification of the Electoral College — you know the same one that got him elected in 2016 after losing the popular vote by millions to Hillary Clinton.
The filings outline gives a glimpse into the hustle and bustle in the West Wing while Trump supporters got together in D.C and ultimately leading to the overrunning of Capitol police and entering the building illegally. This not only led to the disruption of the certification of the 2020 election results, but also cost five people their lives that day with others who were there committing suicide in the weeks and months following.
There's 30 pages from Trump's personal daily schedule, WH visitor and call records. According to the National Archives' B. John Laster, who submitted the filing, "the call logs, schedules and switchboard checklists document calls to the President and Vice President, all specifically for or encompassing January 6, 2021," Laster said. It's these documents that Trump's trying to closely guarded that will reveal some of the most imperative answers of what occurred between Trump and other high-level officials, "including those under siege on Capitol Hill on January 6" per multiple news outlets who have reviewed the most recent court filing. Additionally, there are drafts of speeches, one drafted proclamation which honors two police officers who died that day, and a variety of memos and other relevant documentation that relates to the supposed election fraud (aka the Big Lie) and efforts to overturn Biden's presidential win.
The fight is still just starting to heat up. Earlier this week, a bipartisan group of 66 former congressional legislators wrote a letter as a "friend to the court" in support of the House committee in the case. They requested that the documents are not kept secret and to allow the committee to gain access to ensure a thorough investigation is done.
"An armed attack on the United States Capitol that disrupted the peaceful transfer of presidential power — and not the document requests necessary to investigate it — is the only grave threat to the Constitution before the Court," the former members wrote in their letter. The group was also supported by a government accountability and transparency organization, law professors and legal experts who agree that it's necessary to turn over these documents if we want to stop this from happening again.
Potential criminal prosecution may come out of the committee's investigation as Trump loyalist and ally Steve Bannon continues to defy the congressional subpoena through claims of executive privilege regarding his private communications with Trump. Last week the House held a vote to hold Bannon in contempt of court, and submitted the filing to the Justice Department which is currently evaluating whether or not it will pursue prosecution against Bannon. It's important to note here that Bannon received a pardon from Trump in his final days in the Oval Office, and refusing to cooperate leading to an arrest means he loses his pardon. Bannon is avoiding the committee because to keep his pardon means he is not entitled to his Fifth Amendment right to stay silent. Basically, Bannon is royally screwed and panicking since he knows snitches get stitches — or a rage fax email calling him a loser in one of Trump's many post-presidency meltdowns.
As we continue to near some sort of explanation on who was involved in what part of the January 6 events, many are concerned this is just another hyped up hope that AG Merrick Garland will do something but probably won't we must remember how serious this truly is. This case is not only very complex, but prosecution of political officials and a former president opens a pathway to a trend where America may face every former president being arrested out of the shear revenge mentality of "red vs. blue." The prosecutors working every case involving Trump must have everything they need to present a solid case where all cracks and crevices are filled before filing criminal charges.
It may seem like 84 years, however, in order for our democratic republic to survive there can be no errors in these cases or we can expect a civil war to breakout. Recent polls have found that 1 in 10 Americans believe at this time that political violence is necessary to get Donald Trump reinstated as president. That's at least over 30 million people who are ready to go to battle for him. We cannot risk a war on our own soil, especially not between each other.
Remember that our justice system takes years to go through the courts before an outcome is received. Considering five members of Trump's inner-circle who helped plan January 6 or tried to help overturn the 2020 vote are cooperating with the committee, it's probably safe to say things will be moving quickly now and we will start hearing what actually happened that day.
Contact the Feature Writers