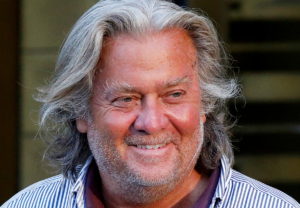 By Nikki Slusher
Earlier today former President Donald Trump's close ally Steve Bannon surrendered himself to the FBI on his contempt of Congress charge over his refusal to cooperate with the January 6th Committee's investigation.
Bannon told reporters, "This is going to be the misdemeanor from hell," outside of a federal courthouse. During his brief appearance, Bannon stated that the committee "took on the wrong guy." Last Friday Mr. Bannon was indicted on two counts in contempt for failure to comply with a congressional subpoena regarding the commission's request for him to provide any relevant records and to testify regarding what knowledge and role he may have had in the January 6th assault on the Capitol.
Mr. Bannon appeared in front of Judge Robin Meriweather, but the case will be presided over by Judge Carl Nichols who's a Trump bench appointment. Trump's former top aide will be arraigned in federal court on Thursday morning. Bannon was released today under the condition of general supervision, and must check-in weekly via telephone. Bannon also was forced to surrender his passport and other international documents. Lastly, he must also notify authorities anytime he travels outside the district.
While riding to the FBI's field office to surrender, ABC news reported that Bannon released a promo for his talk show and told his listeners to not "take their eye off the ball." Bannon followed up by saying, "we're taking down the Biden regime" while completely avoiding discussing his charges. "I want you guys to stay focused and stay on message. Remember signal, not noise, this is all noise, that's signal," he said before ending the video by saluting the camera.
The indictment against Bannon is the first of any of its kind. It will also set off a trickle-down effect on how others subpoenaed by the committee will respond, and what information they will provide regarding what happened leading up to and on the day of January 6th, 2020. This story is still breaking and will be updated once more details are available.
Contact the Feature Writers