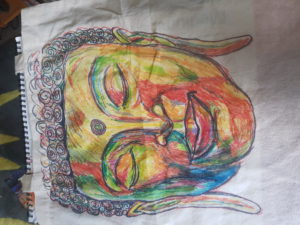 By Radical Rhymes
Like everyone I've spent long hours waiting around for things. As a young lad it actually hurt me to wait, I was active, energetic and hated being still. So, the queuing culture was agonising!
Unfortunately, my sister had chronic rheumatoid arthritis which meant hours in hospitals, clinics and surgeries. The worst times were when she was hospitalised fifty miles away and we had to travel there every night after school. Nearly three hours there and back with long hours in between.
During the winter months those hours in between were spent in the car. Children weren't allowed to visit, so I was on my own in a dark car park, often in the cold, left with instructions to hunker under the dashboard if anyone came past. Boring. Lonely. Scary.
Then, the hours dragged and it was horrendous. At least in the summer months and at weekends I could read – generally Willard Price books – but in winter it was unbearable. And I guess that's normal for kids, being left alone for hours with nothing to do and feeling constantly anxious is no real fun.
However, I have to say that waiting never really got better. Whether that was sitting in medical waiting rooms on my own account, or job interviews or anything else. Now, partly that's about my early experiences combined with the restlessness that my brand of bipolar brings. But… there's more to it, there's an aspect of this that I can control.
You see, I have mistakenly seen waiting as dead time, wasted time, time between times. That it's a momentary hiatus in my real life, a necessary barrier to whatever it is that I am waiting for. And that's not good, because it means a large part of my life is not really being lived.
In essence it's the same problem I've had with goals, because I haven't seen the time spent striving for the goals as a real part of my existence. Again, that time has only been a vehicle to whatever it was that I wanted to attain or to achieve. To put it bluntly, I've lived a truncated life. Pools of meaningful time bridged by veritable wastelands.
That has to stop. It IS annoying at times to have to wait, but waiting can enhance experience. I've been watching season 11 of the Walking Dead at rhe moment and I'm having to wait for the each episode, I can't just binge watch it on Netflix or Prime. Every time credits roll bringing another episode to an end I feel deeply frustrated, how on earth can I wait a week to find out what happens???
Because… I can. And what's more I remind myself of the pleasure I get when I see the next serving is ready. The anticipation is a joy in itself. Perhaps this isn't the best example, as the interceding week is a long period that requires so much of me? And yet that's my point. Time is time is time.
My new resolution is not to see any waiting as a waste but rather as an integrated part of my existence. I will use that time to read or draw, or, hold on to your hats, maybe just to be. To exist. To observe and perhaps even to engage with other people!
Waiting is part of life, and I am going to reclaim large parts of mine.
Radical Rhymes is a professional artist working with a range of media – predominantly animal/human portraits and landscapes – including, most recently, hand painted furniture. You can see his work on Instagram Radicalrhymes1969 or on Twitter @RhymesRadical.
For commissions, please contact him on Twitter via Direct Message or by email at: radicalrhymes@outlook.com His work is also available to buy on Etsy
Contact the Feature Writers