Lockdown, Lowdown… Ringside Report Looks Back at the TV Show The Field of Blood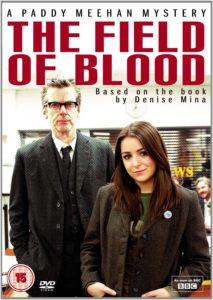 By Donald "Braveheart" Stewart
As a Scot, now and again, you get fed up watching a few stereotypical examples of us in celluloid. We are loud, often drunk and spoiling for a fight. There are plenty of depictions of us Scots like this, with or without kilts, the world over. It's not true. Well not always.
Of course, the thing about stereotypes is to be believable they need constantly feeding so somebody somewhere has to see an example of a drunk angry, normally red headed, Scotsman to feel that they are justified in their prejudice.
So, when a crime procedural comes along, set in Glasgow – at one time the murder capital of Europe – as a Scot, you damn well hope it moves form that stereotype into better territory. And so, it did with The Field of Blood.
A BBC series which got a limited run – 2 series – this was created by Glasgow author, Denise Mina, written by Dundonian scribe, David Kane and was given a stellar Scottish cast including Javd Johnson, Matt Costello, Ford Kiernan, Brian Pettifer and Peter Capaldi. Joining them was the token Englishman David Morrisey who by then was quite the guarantee of quality.
The fact it also included a former member of my youth theatre, Stuart Martin at one point was an added bonus!
It gave us the opportunity to see flesh on the bones of a character we had come to know on the page – Paddy Meehan. Now the name, and not the character, was notorious in Scotland as a man called Paddy Meehan had been convicted of a murder at one point and then there was an outcry and campaign for his release. Whether or not he was guilty, or innocent is not something I would delve into here, but the name resonated. Here Paddy Meehan was a cub female reporter, but Mina cleverly caught my attention, and others by reusing a name of such notoriety.
The name of the series came from the novel of the same name, so the connections were assured. Broadcast in 2011, it gave us this wet behind the ears young reporter, Meehan, who has made a connection between the kidnap and murder of a young boy in the year in which the piece was set – 1982 – and a similar crime in the past. The newspaper for which she is working is old fashioned, stuck in its ways, filled with the bitter and emboldened hacks that have driven it towards its own death and she is looking for the name and the story which shall make her.
She sets out to convince the police of the connection and all sorts of sexist and misogynistic attitudes of the day prevail. It leaves us with our times laid bare, attitudes exposed and more importantly, the heroine being a female young pup that has the grit, determination and guile to show us all how it ought to be done – well to a point.
The fact that it only ran for two series when the Mina mind could have trundled it for longer was a bit of a shame, but the second series did takes us further into the 1980's. We "discovered" that attitudes had not changed much and the newspaper=looked even more out of kilter with the times. This was the time when newspapers in the UK were moving out of the outmoded operations that had kept them at the forefront of news since just after the Second World War and it was high time they moved into new processes. It took investment and if there was very little by way of cash flowing through your till you were being left behind. This was captured beautifully as the male characters were struggling, not only with changing attitudes but with changing processes. To have such a naïve but headstrong principal protagonist, saddled with the name of a male criminal was sheer genius to my mind.
Where it did struggle slightly was in the depth of the characterization allowed by the amount of screen time it had. A longer run would have allowed these tensions to be better explored and given a true airing for us. The time is not that far past when these attitudes were still part and parcel of our day and daily experiences so it would have been nice to allow the issues to be nuanced and be explored.
That task was to be left to others, but you can always go back and read the books – and I have. They are pretty damn fine and if you have a wee look wherever you get your books, Denise Mina is a bit of find, in my opinion. The second series was an adaptation of the second Meehan novel – the Dead Hour – leaving a third – The Last Breathe – unadapted…
The Field of Blood too is a hefty example of good novels being well adapted for a wider public. Paddy Meehan lives on more positively in female form than he ever did as a man…
British television is a curious affair. Begun through the British Broadcasting Corporation (BBC) it is funded through the universal license fee. In essence, if you wanted to watch the television , you had to pay the license fee. The BBC got it all and is state run, albeit at arms-length. Then came along commercial television in the form of the Independent Television (ITV) in 1955. Designed to bring a bit of competition to the BBC, it was paid for through advertising but still free to air… well they didn't add another license fee to it. By the time that I was born, 1965, there was BBC1, BBC2 and ITV. And that was it. It was still years before Bruce Springsteen would moan that there were 55 channels and nothing on but here in the UK, we kept this going until in 1982, we added a fourth channel and in 1997, a fifth. With sparkling imagination, they were called Channel Four and ehm Channel Five… In between came Sky and we understood what Springsteen meant. And so, my childhood and leading up to early adulthood we had three options… But the programs made were exceptionally good. And so, here is some critical nostalgia as the lockdown has brought a plethora of reruns, new formats and platforms and old classics trying to make their way back into our consciousness as broadcasters flood their schedules with classics… or are they classics at all? Let me take you through an armchair critics' view of what we have to see, to find out… Welcome to the Lockdown Lowdown…
[si-contact-form form='2′]