Hang Out with a Raptor Named Trevor, Spartacus, Einstein, and More in Reptilian Rising – Breaking Gaming News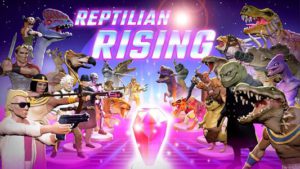 Oh, and you'll battle invading genocidal reptiles, cute right?
Earlier this year Gregarious Games unveiled their Bill and Ted meets Robot Chicken in a video game turn-based squad tactics title Reptilian Rising. Taking inspiration from retro tabletop games, in Reptilian Rising players will assemble their team of heroes by collecting them like action figures for a time-traveling deck-building roguelike of a good time. The cast of characters is star-studded, to say the least, we're talking history of humanity star-studded.
Team not-so-genocidal-reptiles
What better way to fight invading genocidal reptilians than with other reptilians right? Victims of oppressive reptile overlords themselves, these ragtag (scale tag?) group of dinos bring a carnivorous appetite to team humanity (except Hank he's a vegetarian). From Trevor, the polyamorous pacifist to the tough-as-nails brood mother Jo, adding these reptiles to a squad deck is sure to turn the tide of battle.
Team like-all-the-famous-dudes-and-dudettes-in-history
Ever wondered what it would be like to collect action figures of humanity's best and place them on a virtual game board and watch them battle it out in turn-based combat to save their species? Get ready to bust open that blister packaging and set these heroes and heroines of homo sapiens loose.
Coming from multiple eras, players can pick the squad of their retro dreams by looking through the Rolodex of human history. Pick and choose from humanity's best cultivating a strategy sure to thwart those pesky tyrannical invaders. Let Caesar spearhead the turn (get it because he wields a spear) or bulldoze the enemy squad with Roosevelt. Employ guerilla tactics with Robin Hood or the woods woman Marian.
Players will be up against overlords with a variety of skills galaxies wide. Tactics will be key when dealing with the kamikaze Dracorex (they're one explosive dino) or the fanatical Dragon Cultists (they drank waaay too much Kool-aid) among the other super mean nasties that the Oroboros have up their sleeve (our spies tell us they have a three-headed Dictatorsaur).
Reptilian Rising will be transporting players to a virtual game board where roguelike deck building and turn-based strategy collide in an out of this decade retro-inspired comedic adventure next year. To keep report sightings of reptilian overlords join the official Discord or visit Reptilian Rising on Twitter, Facebook, or Instagram.