Ringside Report Looks Back at the Interesting Story of Former World Boxing Champion Freddie Mills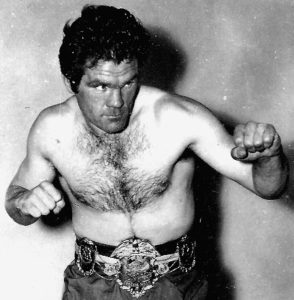 By Donald "Braveheart" Stewart
This is not the usual look back at a fighter of yesteryear. This is all about an enduring British mystery which is known to those who know but unknown in its entirety. It has led many a merry dance and the fact is that we probably will never know the truth, the whole truth as we know everything but the truth.
Freddie Mills, 77-18-6, 55 KOs.
A man of matinee idol looks who did make films was a fighter, a boxer. Professionally he was known as either The Bournemouth Bombshell or Fearless Freddie. Competing at middleweight, light heavyweight and then heavyweight – before there was a cruiserweight option – he was the world light heavyweight champion from 1948 to 1950, became a television presenter, a boxing manager and promoter, a film actor, opened a Chinese restaurant in London before there was ever a Chinatown, ran a nightclub when the restaurant failed and died at the age of 46 in 1965.
Mysteriously.
Mills' life began in Bournemouth in 1919, just after World War One. He started boxing young and then entered the ring in 1936, professionally turning over in 1936, at the Westover Ice Rink, Bournemouth where he knocked out Jim Riley, who was also making his debut, in the 1st round. His first 55 contests were in his first 3 ½ years of being a professional and he endured 9 losses in amongst them. He fought in fairgrounds and down near his hometown of Bournemouth until he was able to fight for a belt or two to decorate his waist.
In the shadow of World War II, he won the Western Area middleweight championship and then joined the RAF for the war. Through the war he kept fighting, picking up the light heavyweight Commonwealth and British titles when he knocked out Len Harvey on the 20th of June 1942 at White Hart Lane, the home of Tottenham Hotspur FC. There were allegedly 90,000 in the crowd!
He beat Jack London in 1944 in Manchester for the same belts and emerged from the worldwide conflict in a good place to up his game and won bigger prizes. In 1946 he fought for the light heavyweight world title and lost, when he was stopped by Gus Lesnevich in Haringey in the 10th round. As quoted in BoxRec "This (was) one of the greatest fights in the history of British boxing." (Johnny Sharpe, in The Ring, August 1946, page 21). He was to fight for it again in 1948. By that time, he was the European champion having won the title in 1947, against Pol Goffaux, winning after Goffaux retired in the 4th round, also in Haringey. His second world title fight was a rematch against Lesnevich. It went the full distance, and the referee gave the decision to Mills, after Lesnevich was cut from the 1st round and twice on the floor. He lost the title in 1950 to Joey Maxim. Mills by this time had recovered from a broken hand, severe concussion and a spinal injury – he suffered severe migraines for the rest of his life. He had continued in his career. Today he would have been stopped from ever entering a ring again but in the`10th round against Maxim, he got floored, had three teeth knocked out, one tooth embedded in his gum and his days as a boxer were over. He relinquished his three other titles – British, Empire and European light heavyweight crowns right after.
The gloves were retired but Mills was far from finished with the British public.
Mills settled down for life in London, England's bustling capital city. Boxing had been good to him and now he was going to enjoy a career where he was more notable and known – he had already eyed and suggested a career in radio, which was available for him after his fighting career finished.
It was a career that was immensely varied taking in theatre, television, film and radio and was as diverse as his business interests. Those interests included property, catering, boxing, a nightclub but he became known to the notorious gangsters of the era – the Kray Twins.
Despite his success in the ring, the number of ventures to which he had attached his name, and the obvious value he brought to the media, by the 1960's he was in financial difficulty. It made him susceptible to a variety of possible ventures that may have been less than savory. Given the association with the Krays, there was never going to be anything less than lurid speculation when he was found dead. Just how lurid would never have been guessed at prior to his death.
On the 24th of July 1965, he went for a sleep in his car at the back of his nightclub. There was nothing unusual in that; he often did it. A little while before he had borrowed a rifle from an old acquaintance. Around a quarter to midnight, the doorman of the club went to the car to discover Mills shot through the right eye and dead.
His wife was called and an ambulance thereafter, an hour after the body was discovered.
On attending the scene, the ambulance personnel removed the body and took it to the hospital where he was pronounced dead.
Initially thought to be a murder, after a couple of days, the police ruled out any further investigation, although the crime scene had been disturbed beyond investigation.
At the inquest it was ruled a suicide because physically the angle of the bullet wound and how the rifle, had it been in Mills' own hand, meant he could have managed to kill himself.
When it had been borrowed the rifle which did not work but was found in the car in working order.
He died with less than £400 to his name, was heavily in debt to the wrong people, had applied for a job in a pub near to where he lived, and was rumored to be making a stand against heavies in the area.
His death was ripe for conspiracy theories.
His widow refused to accept the verdict of suicide, claiming she had been called by a woman who told her who was responsible for the murder, and a campaign to reopen the case was successful. Further investigation however did not shed light on the truth. People came forward and back with accusations, names of people who were responsible and many a working theory. One of the most outlandish was published in 2002 where it was claimed that Mills was gay, had been in a number of homosexual relationships, including with Ronnie Kray and was the serial killer known as Jack the Stripper.
Will we ever know the truth?
The fact was that whilst Mills could have killed himself and the ruling at the inquest was right that it was possible, there were no fingerprints on the gun, two shots had been fired in the car, one from the front seat and not from Freddie's hands and he was found with his hands nowhere near the gun. It was a possibility that he could have killed himself but given the evidence it was an unlikely possibility which means that he died by someone else's hand. Who's? Who knows?
He was, however one of the biggest names in post war boxing in the UK and a worthy champion whilst he boxed. Once he gave up the gloves his enduring legacy has become one shrouded in mystery. Why we adored him in the ring, however, was never a mystery and that is the celebration – the rest, mere speculation – as if boxing fans would EVER enjoy that malarkey…
[si-contact-form form='2′]