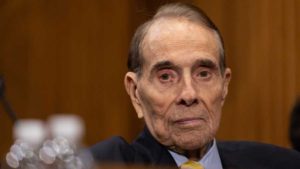 By Geoffrey Huchel
Senator and presidential nominee Bob Dole passed away December 5, 2021. It was not revealed where he died. As for a cause, it was announced last winter that he had Stage IV lung cancer and he was beginning treatment. Bob Dole was 98.
Robert Joseph Dole was born on July 22, 1923, in Russell, Kansas. He was an American politician and attorney who represented Kansas in the United States Senate from 1969-1996. Prior to his years in the Senate, Dole served in the United States House of Representatives from 1961-1969, was the Senate Majority Leader from 1985-1987 and 1995-1996, the Senate Minority Leader from 1987-1995 and was the Chair of the Republican National Committee from 1971-1973. Dole was also the Republican presidential nominee in the 1996 election, and the nominee for vice president in the 1976 election.
Dole served as Colonel in the United States Army from 1942-1948 during World War II, and received the Purple Heart Award.
Ringside Report sends our condolences to Bob Dole's family during their time of grief.
Contact the Feature Writers