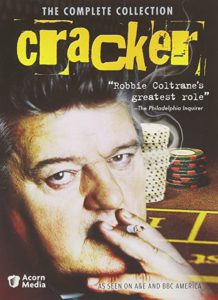 By Donald "Braveheart" Stewart
The principal actor in this drama may now be Hagrid, but for us Scots he is a very dear one of our own. The man with the size to match his impact, Robbie Coltrane was an actor we revered long before Harry Potter was first cast on the page in an Edinburgh coffee shop.
In Scotland, his breakthrough televisual performance was in Tutti Frutti, a John Byrne vehicle, produced by the BBC, which showcased so much of Scottish acting ability that it reminded us we were more than a nation of drunks in an acting sense.
Fortunately, for Coltrane, the next massive vehicle found for him was to be created and begun by one of the greatest television writers of this or any other times – Jimmy McGovern.
It was exactly what is said on the tin – it was a Cracker…
It is hard to believe as I look back that it was contained in only three series and over 25 episodes, but it was to deliver two of the most incredible television events I have ever seen. Firstly, the killing off, of a central character and that death coming at the hands of one of the most transformational acts of acting violence since De Niro in Taxi Driver.
The premise of Cracker was sheer genius. McGovern took the major tropes of the classic detective story – a story, which is debunked, and a crime solved by an outsider, who is a bit
disheveled, unable to behave well, abusive to most around them but holds a genius that allows them to behave badly and catch the bigger bad guy! Then he took the obsession we were having with crime dramas that had a psychological edge through the new science of profiling – it predates Criminal Minds – and he gave us criminal psychologist, Dr. Edward "Fitz" Fitzgerald. Played by Coltrane, Fitz is brought in by the Greater Manchester police force to solve crimes. Running from 1993 to 1995, it brought earthy and gritty realism to the standard fare of police procedural.
Our alcoholic, chain smoking, addicted gambler who carries as much weight as he does brains, Fitz was central to the series and whilst his larger than life personality wrapped things round the storyline, some of the stories took as their starting point real life events which were adapted for use. It also spent time analyzing and developing the characters who were police officers, often tripping them into the realm of crime so that we got policemen who raped, committed crimes and were eventually caught. The criminals that were at the focus of the stories, however included some complex issues, psychologically that pushed the boundaries and often rubbed them out completely. It is a symbol of McGovern's writing that he is focused on social stories that tell a story and use the medium of entertainment to raise questions. Cracker achieved that.
But to manage that needed a strong central series of themes and relationships. And if anything, Fitz gave us complexity overload.
Fitz was married to Judith, played by Barbara Flynn, who he loved imperfectly. He has an affair with DS Jane "Panhandle" Penhaligon, played by Geraldine Sommerville, by series two. He suffers two Detective Chief Inspectors, (DCI) David Bilborough played by Christopher Eccleston, who gets killed, and Charlie Wise played by Rikcy Tomlinson who does not. Lorcan Cranitch made up the final police presence as DS Jimmy Beck, who rapes Penhaligon. Got it?
Given the small number of associated police characters it became a very tight team. In the first storyline of series two, Bilborough is murdered, and his dying evidence is given on the air, by police radio into which his entire team is listening, reveals the identity of his killer, Albie Kinsella.
Played by another exceptional Scottish actor, Robert Carlyle, Kinsella was the most incredible villain to have graced the airwaves in years. Kinsella was traumatized by the events in the Hillsborough Disaster. This is when 97 Liverpool soccer fans went to support their team in a cup semi final and, due to deficiencies in the management of the game were crushed to death. In turn this led to a massive police cover up which took nearly 30 years to unpick. It culminated in the Prime Minister of the United Kingdom acknowledge this travesty of justice and apologize.
Kinsella is clearly damaged psychologically which leads to his lawlessness. This was a highly sensitive subject, which could have ended badly but McGovern was one of the very few writers who could have handled it with any sensitivity and made sure that it was done without leaving stains upon the characters of the innocent who were blamed by the police for the tragedy; it was in and of itself a complete triumph.
When Kinsella killed off the character, that Eccleston had made so central to the narrative arc it set a new standard. Not really followed up until Sean Bean gets his head chopped off at the end of series one of Game of Thrones, this was a high water mark in quality for the televisual drama that was Cracker.
The demise of the show was partly due to the fact that McGovern felt he had no more to write about of quality and that Coltrane was refusing to be involved unless McGovern was writing it. There was a 10 year hiatus before a return in 2006 for a special where McGovern had clearly found something to pen. Only Coltrane, Flynn and O'Brien returned from the original series. New characters were drafted in and given that no more were filmed nor produced it would appear that the time to psychologically draw down the profile as an end had come.
It did make its way to the US and was transferred to Los Angeles with Robert Pastorelli as Fitz, but it lasted only one season though did manage 16 episodes.
Perhaps it was of its time and did not have the legs to go beyond where it landed but it was a decent slice of crime drama, reminiscent of Columbo and certainly with more than a fedora in nodding to a certain Mr. Marlowe…
British television is a curious affair. Begun through the British Broadcasting Corporation (BBC) it is funded through the universal license fee. In essence, if you wanted to watch the television , you had to pay the license fee. The BBC got it all and is state run, albeit at arms-length. Then came along commercial television in the form of the Independent Television (ITV) in 1955. Designed to bring a bit of competition to the BBC, it was paid for through advertising but still free to air… well they didn't add another license fee to it. By the time that I was born, 1965, there was BBC1, BBC2 and ITV. And that was it. It was still years before Bruce Springsteen would moan that there were 55 channels and nothing on but here in the UK, we kept this going until in 1982, we added a fourth channel and in 1997, a fifth. With sparkling imagination, they were called Channel Four and ehm Channel Five… In between came Sky and we understood what Springsteen meant. And so, my childhood and leading up to early adulthood we had three options… But the programs made were exceptionally good. And so, here is some critical nostalgia as the lockdown has brought a plethora of reruns, new formats and platforms and old classics trying to make their way back into our consciousness as broadcasters flood their schedules with classics… or are they classics at all? Let me take you through an armchair critics' view of what we have to see, to find out… Welcome to the Lockdown Lowdown…
Contact the Feature Writers