Lockdown, Lowdown… Ringside Report Looks Back at the 70's TV Show Monkey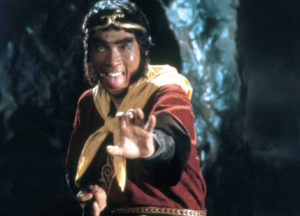 By Donald "Braveheart" Stewart
This is almost all memory. In fact, the television program itself is perhaps a little less important than its importance to a young child living in late 1970's Scotland.
1970's Scotland was bleak. 1970's Scotland was desolate. 1970's Scotland was a place where there were too few things to do and too many hours to fill. Especially on a Sunday, though it could all begin on a Saturday…
The weekends were supposed to be filled with excitement – school was over, and we had our own time to go and do what we wanted. Friends became important and we socialized, though we were unaware that was what it was called. We didn't even "hang out" we just hung about…
But it was Scotland and for 10 months of every year it seemed like it was raining. Not for us the luxury of endless summers that could be recalled on repeat by people who claimed they had witnessed the joy of sunshine beating down from dawn to dusk. No, we had to dodge the rain and hope there was no snow. Well, we could hope for snow and schools being closed as a consequence so we could… stay at home and have too few things to do and too many hours in which to do them.
Television shut at night and reopened in the morning. In between you simply had to amuse yourself. Oh, and television anyway consisted of no more than three channels and each of them catered for different audiences at different times. If you missed your slot, you missed the whole damn thing. There was no way of recording programs and the event of watching television was indeed an event.
Saturday morning television was one of our slots. This was a little before the advent of television especially for children during the mornings. It was before the beginnings of shows like Saturday Swap Shop and TISWAS. My Saturday would begin with Frenchmen who hated Spaniards and a Japanese series based on a monkey.
It was a wonder we didn't turn out racist and confused…
Wait a minute…
Standard fare was The Three Musketeers – the aforementioned Frenchmen who hated the Spanish – and Monkey.
It was Monkey I loved.
This was an action adventure caper that included a number of characters dubbed into English with Japanese accents which at the time did not seem at all weird but now… There were 52 episodes, over 2 series, though only 39 were broadcast in the UK – where we followed Monkey, the punkiest monkey that ever popped in his adventures from 16th Century China. He was immortal, imprisoned for 500 years by Heaven to learn patience until the priest, Tripitaka released him. Monkey and Tripitaka go on an adventure with Sandy, the water monster and Pigsy, a pig monster. There is also a dragon who eats a horse, then turns into a horse and sometimes turns into a human called Yu Lung. They have been tasked with getting holy scriptures from India.
To be fair, I knew none of this until looking into the series now. I just loved the fights with mythical creatures. Each story seemed to exist in its own right and if there was a quest then this teenager had no idea what it was for. It just livened up my Saturday morning. I was far too old for it but when your childhood consists of extensions of being at school, anything that smacked of entertainment was IN. Monkey was in.
Not long after, University called, and Saturday mornings took on another attraction or ten. I had watched Monkey intermittently, without knowing where in the story I was, so there was every possibility that I just missed a few episodes and lost the story along the way.
But what it did do, was make Saturday mornings less about the streaks of rain upon my windowpane, but more about the promise of what would happen if the sun came out and I had immortal friends. It led me to rediscover an inventive streak and recognize a culture, a philosophy and a part of me that was in a part of the world that I knew not in full nor in part. And for that wee guy in Scotland to this old one now, it stayed as all good stories should, as a memory, imperfect, but comforting.
British television is a curious affair. Begun through the British Broadcasting Corporation (BBC) it is funded through the universal license fee. In essence, if you wanted to watch the television , you had to pay the license fee. The BBC got it all and is state run, albeit at arms-length. Then came along commercial television in the form of the Independent Television (ITV) in 1955. Designed to bring a bit of competition to the BBC, it was paid for through advertising but still free to air… well they didn't add another license fee to it. By the time that I was born, 1965, there was BBC1, BBC2 and ITV. And that was it. It was still years before Bruce Springsteen would moan that there were 55 channels and nothing on but here in the UK, we kept this going until in 1982, we added a fourth channel and in 1997, a fifth. With sparkling imagination, they were called Channel Four and ehm Channel Five… In between came Sky and we understood what Springsteen meant. And so, my childhood and leading up to early adulthood we had three options… But the programs made were exceptionally good. And so, here is some critical nostalgia as the lockdown has brought a plethora of reruns, new formats and platforms and old classics trying to make their way back into our consciousness as broadcasters flood their schedules with classics… or are they classics at all? Let me take you through an armchair critics' view of what we have to see, to find out… Welcome to the Lockdown Lowdown…
[si-contact-form form='2′]