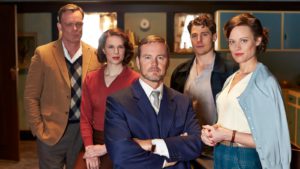 By Donald "Braveheart" Stewart
During the 1990's the United Kingdom became obsessed with Australian soaps. It manifested itself in two – Home and Away and Neighbors. Each of them eventually boasted a Minogue sister each – Danni in Home and Away and Kylie in Neighbors – and they held our attention for their run in quite a fascinating way. It was Neighbors first which broke the soup dish rather than mold and thanks mainly to a student audience who loved the escapism of a very camp set of sunny scenarios, we, as a collective national audience were hooked. We had everything you would expect from a soap including Joe Mangle, the goofy, goody, Bouncer the Labrador and villains aplenty. When the hunk that was Craig McLachlan appeared, hormonal overdrive went into full swing.
But it was not his appearance on our screens in Neighbors that caught my attention. I was never a great soap watcher. It was when he grew up and grew out of the sunny side of the street and came into the darker areas of crime fighting as an over inquisitive doctor that I perked up my interest.
The Doctor Blake Mysteries, from Australia, were originally produced by ABC television in Australia before the Seven Network finished them off. The Mysteries managed to fill a peculiar slot in BBC scheduling: the early afternoon bit after another soap aired – Doctors – when those of a certain cozy age were looking for gentle drama and nothing too taxing.
The BBC have always had a firm hand on the types of shows that it would like to have on its schedule for the afternoon as the audience would tend to be of a certain age – increasingly my own. We have had the latest iteration of Father Brown there, a great wee Mini-series called, WPC 157 following a new female constable in a male dominated 1950's series and then 5 seasons of this cracking little number from down under.
Over 45 episodes we got this sleuthing alongside policemen who were helpful and those who found Doctor Blake an interfering pain in the proverbials.
The premise was relatively simple. Having left his hometown in his 20's to come all the way over to Scotland to study, he then joined the British Army and served in the Far East. In the late 1950's his father, who was a local doctor in Ballarat, northwest of Melbourne, dies, leaving him the practice. Lucian returns.
His father had been the police surgeon, so he too adopts the role.
Jean Beazley, played by Nadine Gardner, is the housekeeper who comes with the practice and so begins the gossip as Beazley is a widow, Blake is seemingly unmarried, and they are to all intents and purposes living under the same roof. And it is the 1950's. They eventually do marry…
We then have Blake's past return over the course of the series as we find out about his time spent in a prisoner of war camp, his marriage to a Chinese woman and the birth of their son. It had indeed been an eventful 33 year gap between leaving and coming back. For some of us who had seen him announce himself in Neighbors it was a bit of a shock to discover McLachlan was heading for his sixties!
At its core there were two central relationships – firstly that of his housekeeper who he believed at first should attend to his every need, aside for the obvious one, and with the police. For the first few series those relationship builds to an exceptionally trusting one. Blake is seen on both sides as eccentric but insightful and the local police Chief Superintendent uses him to great effect. Played by Joel Tobeck, alongside the housekeeper added to the feeling that Chief Super Mathew Lawson made a great triple act amongst all three of them.
Then the beauty of it all was when it turned sinister.
A new Chief Superintendent Frank Carlyle, played by Rodger Corser arrives and he does not take kindly to Blake at all. The whole series sees Blake side-lined and struggling until the whole thing comes to a head and Carlyle is discovered to not be a good un!
For a gentle drama designed for a gentile audience this worked really well. But by the end of the 5th series allegations of McLachlan's behavior surfaced from his time on a tour of the Rocky Horror Picture Show which made the decision to cancel it a natural break. McLachlan has since fought these sexual allegations and won his case, but the damage was done.
Network Seven decided to buy the rights and work towards films which would remove the good doctor but make use of the rest of the characters. It would center around the housekeeper, her new husband missing presumed dead, and despite being what might be called the perfect response to any allegations of male inappropriate behavior, the four suggested movies were traduced to one and it ended the series.
Having seen them all, and the film, it was a an interesting and a tremendously entertaining addition to the cannon of crime films and television series. That it was Australian, opened up the possibility of Antipodean drama becoming a staple of our watching, there were more dramas and crime procedurals to follow but this was a great entry point at which to start.
British television is a curious affair. Begun through the British Broadcasting Corporation (BBC) it is funded through the universal license fee. In essence, if you wanted to watch the television , you had to pay the license fee. The BBC got it all and is state run, albeit at arms-length. Then came along commercial television in the form of the Independent Television (ITV) in 1955. Designed to bring a bit of competition to the BBC, it was paid for through advertising but still free to air… well they didn't add another license fee to it. By the time that I was born, 1965, there was BBC1, BBC2 and ITV. And that was it. It was still years before Bruce Springsteen would moan that there were 55 channels and nothing on but here in the UK, we kept this going until in 1982, we added a fourth channel and in 1997, a fifth. With sparkling imagination, they were called Channel Four and ehm Channel Five… In between came Sky and we understood what Springsteen meant. And so, my childhood and leading up to early adulthood we had three options… But the programs made were exceptionally good. And so, here is some critical nostalgia as the lockdown has brought a plethora of reruns, new formats and platforms and old classics trying to make their way back into our consciousness as broadcasters flood their schedules with classics… or are they classics at all? Let me take you through an armchair critics' view of what we have to see, to find out… Welcome to the Lockdown Lowdown…
Contact the Feature Writers