Our Golden Girl: A Tribute to Betty White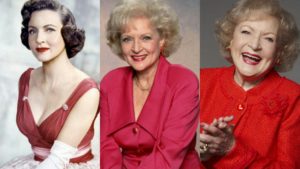 By Geoffrey Huchel
Not only did 2021 take over for 2020 by continuing to wreak havoc on the world, but it really wanted to hurt us by taking away one of the world's most cherished figures: the legendary Betty White. The beloved pioneer of television and film passed away on December 31, 2021 in her sleep at her Brentwood home from a stroke she had on Christmas Day. She died just 18 days before she was to turn 100. When I first heard the sad news, I remember saying, "Betty White can't die. She's supposed to live forever." I think that sentiment was shared by many. Betty White was not only a successful actress, producer and humanitarian, she was adored by her countless fans. She will be sorely missed but will live on in her TV and film roles and in our hearts and minds. Turns out she will live forever after all.
To celebrate what would (and should) have been her 100th birthday, we look back at Betty White's extraordinary life and career both in front of and behind the camera.
Betty White (born January 17, 1922), has had one of the longest and most successful careers in show business, spanning over 8 decades. One of White's earliest successes was being the first woman to produce a sitcom (LIFE WITH ELIZABETH 1952-1955), for which she also starred. It didn't take long for White to become a household name and a regular face on our TV screens. She definitely earned and deserved the title "The First Lady of Television". She really was.
Although White has over 120 credits to her impressive resume, there are definitely some roles that she will be best remembered for. The first is her role of Sue Ann Nivens on the THE MARY TYLER MOORE SHOW (1970-1977). White appeared in 45 episodes of the Emmy winning series and won 2 Emmys herself for her appearance on the series. Her next most remembered role is as fan-favorite Rose Nylund and her iconic "St. Olaf" stories on the popular sitcom THE GOLDEN GIRLS (1985-1992). White's portrayal of dimwitted but lovable Rose is a career defining role for the actress and it's earned her another Emmy award for Outstanding Lead Actress in a Comedy Series. White guest-starred as Rose on the series NURSES (1991-1994) and EMPTY NEST (1988-1995), and reunited with two of her GOLDEN GIRLS co-stars RUE McClanahan and Estelle Getty for the short-lived spinoff series THE GOLDEN PALACE (1992-1993). White also won audiences over for her portrayal of Elka Ostrovsky on the series HOT IN CLEVELAND (2010-2015).
Some of White's additional credits include THE BETTY WHITE SHOW (1977-1978), ST. ELSEWHERE (1982-1988), THE LOVE BOAT (1977-1987), MAMA'S FAMILY (1983-1990), THE STORY OF US (1999), ALLY MCBEAL (1997-2002), THAT 70s SHOW (1998-2006), BRINGING DOWN THE HOUSE (2003), THE PRACTICE (1997-2004), BOSTON LEGAL (2004-2008), THE BOLD AND THE BEAUTIFUL (1987-), YOU AGAIN (2010), THE LOST VALENTINE (2011), and TOY STORY 4 (2019). No fan of White's can forget her memorable performances as Mrs. Delores Bickerman, the woman who feeds the alligators in LAKE PLACID (1999) and Grandma Annie in the comedy THE PROPOSAL (2009), starring Ryan Reynolds and Sandra Bullock. Another honorable mention goes to White's unforgettable turn as host of SATURDAY NIGHT LIVE (1975-), in 2010. White produced and hosted the hidden camera series BETTY WHITE'S OFF THEIR ROCKERS (2012) and was also a frequent guest on a myriad of television variety and game shows including PASSWORD (1961-1975), THE CAROL BURNETT SHOW (1967-1978), THE HOLLYWOOD SQUARES (1971-1981), DINAH (1974-1980), MATCH GAME (1973-1990), PASSWORD PLUS (1979-1982), THE NEW HOLLYWOOD SQUARES (1986-1989), THE 25,000 PYRAMID (1974-1991) and many others.
Ms. White was a lifelong animal lover and was an animal welfare advocate who worked for organizations including the Los Angeles Zoo Commission, The Morris Animal Foundation, African Wildlife Foundation and Actors and Others for Animals. In the early 1970s she produced and hosted the syndicated series THE PET SET (1971-1972), which spotlighted celebrities and their pets.
On June 14, 1963, White married television host and personality Alan Ludden. They were married until his death on June 9, 1981. White called him the love her life, and she never remarried or had any children. However, she has gained an abundance of respect from people all over the world.
White was also known for her sharp and quick-witted personality and she never fell short of a meaningful quote or a funny quip about her career and life in general, to which I will end with this: "It's your outlook on life that counts. If you take yourself lightly and don't take yourself too seriously, pretty soon you can find humor in our everyday lives. And sometimes it can be a lifesaver." -Betty White.
[si-contact-form form='2′]