Comedian Louie Anderson Dies at 68 – Entertainment News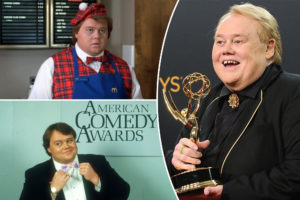 By Geoffrey Huchel
Emmy winning comedian, actor and game show host Louie Anderson passed away January 21, 2022, in Las Vegas, Nevada, after a battle with blood cancer. He was 68.
For his stand-up career, Anderson performed in a show called LOUIE: LARGER THAN LIFE, in Las Vegas, which ran from 2003- 2012.
Anderson is known for his stint as the host of THE FAMILY FEUD from 1999-2002. His notable roles in television include the comedy series BASKETS (2016-2019), for which he won the Emmy for Outstanding Supporting Actor in a Comedy Series, and the animated series LIFE WITH LOUIE (1994-1998), for which he also won an Emmy for Outstanding Performer in an Animated Program.
His additional film and TV credits include CLOAK & DAGGER (1984), FERRIS BUELLER'S DAY OFF (1986), COMING TO AMERICA (1988), CHICAGO HOPE ( 1994-2000), THE LOUIE SHOW (1996), TOUCHED BY AN ANGEL (1994-2003), ALLY MCBEAL (1997-2002), NASH BRIDGES (1996-2001), SCRUBS (2001-2010), DRUNK HISTORY (2013-2019), YOUNG SHELDON (2017-), and SEARCH PARTY (2016-2022).
Ringside Report sends our condolences to Louie Anderson's family during their time of grief.
[si-contact-form form='2′]