Declaring Miami Beach's Deauville Hotel Historic is Utter Fol-de-Rol and Complete Grandstanding Nonsense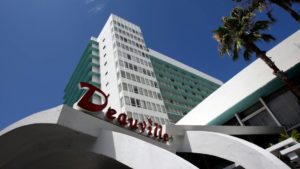 By Seth H. Bramson
As some of you may be aware, the Deauville Hotel on Collins Avenue at 67th Street on Miami Beach has been declared derelict by the city and is slated for demolition. That was and is the correct declaration and was and is the proper if not acceptable fate for a building that has no more historic architectural value than most of the homes in Miami-Dade County, including that of Al Brown's house on Palm Island, he also is known as "Mr. Capone."
For those of you who may not be familiar with this writer, allow me to "introduce myself."
I am, in addition to being America's senior collector of Florida East Coast Railway (F E C) and Florida transportation memorabilia, I also hold that same distinction in regard to Miami memorabilia and Floridiana, and I have been collecting not only in those four categories but all U S railroad, trolley, steamship, airline, bus and boat items, U S picture postcards and all U. S. travel and destination material for, come May of this year, 64 years. Nobody, alive or dead, has been doing it for that long or with more (or even as much) passion than I have.
"But wait! There's more!" In addition to all of that our collections of FEC Railway and Florida transportation memorabilia are the largest in the world: they are larger than the state museum's collection (of like items, of course, not their entire collection) and larger than the Flagler Museum's collection, the same disclaimer applying. But, and in addition to that, our collections of Miami memorabilia and Floridiana are the largest such collections in private (private as opposed to the museums) hands in the country, and in many cases larger than no few local museums. Further, the superlatives regarding The Bramson Archive in terms of local South Florida and Florida history are almost inconceivable: the largest collection of Miami Beach memorabilia in public or private hands in the country, with the same statement applicable to our collection of Florida postcards, restricted clientele memorabilia (from the years when Jewish people were not allowed to stay at certain hotels or belong to certain private clubs), the largest collection of black Miami memorabilia in white hands in the country and, among other "number one's," the largest collection of Greater Miami and Florida historic hotel and restaurant china, silver, menus and glassware in public or private hands in the country.
If you will consider that, and add to those comments the fact that I am America's single most-published Florida history book author ("only" 33—none self-published—at the present time) then you might tend to agree that the following comments not only have validity, but, in addition, that they should carry a good bit of weight in regard to the discussion of whether or not to save the Deauville Hotel.
We must therefore, start with several questions, the first of which is whether or not it is of such architectural importance that it deserves to be saved, and the answer to that question is a resounding "no."
It is, in truth and fact, a rectangle, built in 1956 or 1957, which replaced the MacFadden Deauville Hotel, which, indeed, just like the Roney Plaza at 23rd Street and Collins Avenue, deserved to have been saved, but, sadly and unhappily, neither one was.
Second, and also in truth and fact, the deterioration of the building has reached a point and a level at which is it completely unsafe and certainly uninhabitable. As one whose family moved to Miami Beach in 1946, and who ran through the basements and explored the towers of the predecessor building (which, as noted, should have been saved), there is little, if anything, that makes the current structure worthy of declaration as a historic building.
The third issue is very simple: IF it is incorrectly declared historic, then, and simply put, who will pay for the restoration? The current owners certainly not only have no intention of doing so, but they should not be forced to maintain a structure that has reached a point of such severe and dangerous deterioration.
Do I care? Of course I care. All of Carl Fisher's historically important hotels should have been saved, but they weren't. The original house that was the first Joe's Restaurant (later Joe's Stone Crab) on Biscayne Street should have been saved, but it wasn't. The original Miami Beach Federal, on the northwest corner of Lincoln Road and Washington Avenue should have been save, but it wasn't. The list, of course, is nearly endless. As stated above, the Roney Plaza and innumerable other buildings of architectural and historic importance should have been saved and I wonder where all of the (as the late, great Neil Rogers would often refer to them as) "well meaning but completely unknowledgeable front-running phonies were then. They were either not here or not interested, and it seems that the hysteria over saving the Deauville is being carried on and carried out by those who have wonderful memories of the pool, the ice skating rink, the coffee shop and restaurants, the wonderful shows and the great events held there, but, as is so often the case, none of them are prepared to put up the money to save a property that can be remembered in photographs, booklets, brochures and postcards, but which, frankly and truthfully, has reached the point—in a capitalistic (not a dirty word) society and free market economy at which it is time to state the truth and facts about a property that, while being a wonderful resort for a good few years and of which there are thousands and thousands of happy memories, never should have been built by Sam Cohen because its construction brought about the demolition of the current Deauville Hotel's predecessor and it was that wonderful building which, absolutely and unquestionably should have been saved.
Simply put: if the crocodile tears crying so called "preservationists" really and truly want to save the hotel, then, indeed, I urge them (which they won't do, and both you, dear reader, and I know this to be an absolute fact) to get off their butts, form a not-for-profit corporation and raise the some hundreds of millions of dollars which it will take to restore a property that is, frankly, almost beyond restoration. At such time as that occurs (on "the twelfh of never?")
I will not only honestly and earnestly salute them but will also admit that I was wrong. But, and again, "truth be told?" Neither is going to happen.
Be –and stay—well, folks, and with all good wishes to all of you, your friends and your families.
[si-contact-form form='2′]