Social Issues in 1980s songs: Breaking Taboo and Stigma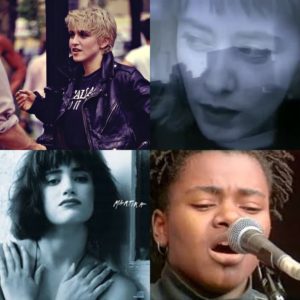 By Karen Beishuizen
I am an 80s Music Child. I grew up with 80s songs:
Best Music Ever!
Back then it wasn't common to address social issues in songs. The stigma and taboo were too big and yet these songwriters took it upon themselves to break these rriers.
Let's deal with the controversy afterwards!
I am singling out these singers, although there were probably more, but I love these songs so much:
They still give me goose bumps every time I listen to the lyrics.
Let's start!
The year is 1980: Peter Gabriel releases a song called "Biko":
A song about the Anti-Apartheid activist Steve Biko who stood up for black people in South Africa. On 6 September 1977 he was severely beaten by police officers during an interrogation. He suffered three brain lesions that resulted in a massive brain haemorrhage. On 12 September Steve died alone in his hospital cell in Pretoria.
The lyrics are so powerful and haunting: "September '77, Port Elizabeth weather fine. It was business as usual. In police room 619" It became Peter Gabriel's landmark song until today. The year is 1983: U2 releases a song called "Sunday Bloody Sunday": A song about the British Army opening fire on a peaceful civil rights protest against the separation of Northern Ireland and Ireland. Thirteen people were killed in Derry on 30 January 1972.
Bono describes vividly in the song what happened that day: "Broken bottles under children's feet. Bodies strewn across the dead-end street" It became one of their biggest songs. He always said it was not a rebel song but a humanitarian plea against killing. The year is 1984: Bruce Springsteen releases the album and song "Born in the USA": The song is about Vietnam War Veterans returning home to America where they receive an unwelcome reception and experiencing economic hardships.
"Come back home to the refinery. Hiring man says, "Son, if it was up to me". I go down to see the V.A. man. He said, "Son, don't you understand?"
When Ronald Reagan used the song for his Presidential Campaign, Bruce reacted furiously and demanded that the song was removed.
At a concert in Pittsburgh Bruce played "Johnny 99" and said this was for Ronald Reagan: A song about an unemployed auto worker who turns to murder.
The year is 1986: Jackson Browne releases an album and song called "Lives in The Balance":
A song about lying governments going to war for no reasons and that they are never the ones to die.
A very critical Jackson who is brutally honest about America and what it stands for and it isn't good: "I want to know who the men in the shadows are.
I want to hear somebody asking them why. They can be counted on to tell us who our enemies are. But they're never the ones to fight or to die"
Amazing Album and the first one Jackson made sober: no drugs and no alcohol. Just a clear mind and conscious. The song is still so current although he wrote it 36 years ago.
The year is 1986: Madonna releases a song called " Papa don't preach ":
A song about teen pregnancy with a girl trying to tell her dad she is expecting and that she wants to keep the baby:
"Don't you stop loving me, daddy, I know I'm going to keep my baby"
Women and Family Planning organizations criticized Madonna to promote teen pregnancy and Anti-Abortion groups saw the song as an anti-abortion song.
Even Saint Pope John Paul II got involved and urged Italian fans to boycott her 1987 World Tour when it came to Italy.
At the 1987 MTV Video Awards " Papa don't preach " won The Best Female Video Award and it became Madonna's 4th Number One Hit.
The year is 1987: Suzanne Vega release a song called " Luka ":
A song about child abuse. A little boy called Luka who is abused by his mum and dad.
Suzanne told in interviews she saw this boy outside her home, and he was different than the other kids. She knew his name was Luka but wasn't sure what his story was.
She decided to write a song about child abuse and to call the song "Luka".
The lyrics tell a story: " They only hit until you cry and after that you don't ask why / I guess I'd like to be alone with nothing broken, nothing thrown "
It received 3 Grammy Nominations in 1988: Record of The Year, Song of The Year and Best Female Pop Vocal Performance.
The song is still so current as if it could have been written today.
The year is 1987: Australian band Midnight Oil releases "Beds are burning":
A song about Australia's first citizens The Aboriginals and how terribly they are treated by the Australian government.
The people live in remote communities with poor health and living standards.
Peter Garrett saw it first-hand and wrote the lyrics in shock: "The time has come. A fact's a fact. It belongs to them. Let's give it back"
It becomes their biggest hit to date and one of The Rock and Roll Hall of Fame's 500
Songs that Shaped Rock and Roll.
The year is 1988: Martika releases a song called " Toy Soldiers ":
A song about a friend with a cocaine addiction. Martika wasn't sure she could write such a heavy song, but she came up with these powerful lyrics:
"It's getting hard to wake up in the morning. My head is spinning constantly. How can it be? How could I be so blind to this addiction? If I don't stop, the next one's going to be me"
The song was number One on The Billboard Top 100 for 2 weeks.
I relate to this song so much because the love of my life committed suicide by gun in 1995 after he couldn't beat his drug addiction.
I couldn't listen to the song for 10 years. Too many memories of that faithful day in March 1995!
I still can't listen to the song without getting all choked up and tears dwelling up in my eyes.
I never wrote to Martika what a great song she wrote here. Maybe I should drop her a line to say Thank You.
The year is 1988: Tracy Chapman releases her stunning self-titled Debut Album.
On there as the 4th song is "Behind the Wall":
A song about Violence Against a Woman who lives next door.
Lyrics that will get you cold chills and make your hair in the back of your neck stand up:
"Last night I heard the screaming. Loud voices behind the wall. Another sleepless night for me. It won't do no good to call. The police always come late. If they come at all.
And when they arrive, they say, "they can't interfere with domestic affairs, between a man and his wife."
Last night I heard the screaming. Then a silence that chilled my soul. I prayed that I was dreaming. When I saw the ambulance in the road.
Tracy was 24 years old when she wrote this song. Wise beyond her years and so talented. What a songwriter!
The year is 1989: Lenny Kravitz releases his stunning debut album "Let Love Rule":
On there a song called "Mr. Cab Driver" – Lenny is calling out racism by cab drivers who don't want to pick him up because he is black.
"Mr. cab driver doesn't like to way I look / He don't like dreads he thinks we're all crooks / Mr. cab driver reads too many story books /
Mr. cab driver passes me up with eyes of fire / Mr. cab driver thinks we're all 165'ers / Mr. cab driver Fuck you I'm a survivor"
It gives you goose bumps and chills just listening to it. The words Fuck You are coming from the bottom of Lenny's heart, and you feel it.
The world needs more songwriters like these amazing people to address issues people don't want to talk about. Get it out there! Break the Taboo!
[si-contact-form form='2′]