I Left My Heart in San Francisco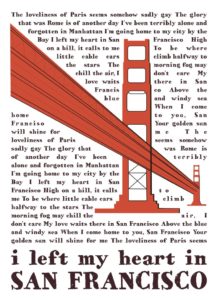 By Karen Beishuizen
San Francisco, my beloved city. Where shall I start to explain my love and adoration for this incredibly beautiful liberal place by the bay? I think my love started as a young kid back in the late 70s, early 80s when I watched the great cop show " The Streets of San Francisco " on TV. I loved that show and was amazed by the beauty of the city it was filmed in: The hilly streets, the cable cars, the pier, Alcatraz, the golden gate bridge Then came "Hotel", " Midnight Caller " and Full House ": All filmed in San Francisco. I just had to go there one day. Opportunity knocked in the 1990s when I was offered a sponsored job at a hotel in San Francisco and stayed for 4 years. Every day I roamed the streets, and it didn't take long, or I knew the city like the back of my hand. I went back in 2003 and stayed 10 days and it was as if nothing had changed. I was home again and so happy. I even cried at the airport because I didn't want to go! I was there in 2012 when the Golden Gate Bridge celebrated her 75th birthday and saw the magnificent fireworks which lasted at least 1 hour! In 2019 I celebrated my 50th birthday in San Francisco: At the Tonga Room and Hurricane Bar inside the stunning Fairmont Hotel. Friends came from Oakland and Los Angeles to be with me, and we had a blast! we crossed the street to The Mark Hopkins and went up to Top of The Mark on the 19th floor to continue the party.
No need to say that the view from up there was amazing! When one of my friends drove me back to the hotel, she surprised me by going via Lombard Street and what an adventure that was! I love the crooked street! Three days later I took the train to Santa Clara to see my beloved 49ers win at The Levy Stadium. San Francisco is so special: Where little cable cars climb halfway to the stars, Fisherman's Wharf, Union Square, Chinatown, The Castro, North Beach, Pacific Ocean, Pier 39, The Painted Sisters, Yerba Buena Gardens, Moscone Centre, City Lights Book Store, Vesuvio, The Coit Tower, Golden Gate Park, Golden Gate Bridge, Transamerica Pyramid. The 1967 Summer of Love where more than 100,000 traveled to The Haight Ashbury district to celebrate free love and peace. Where Harvey Milk was elected as the first openly gay man to public office and was assassinated together with Mayor George Moscone by Dan White at City Hall in 1978.
Where Marilyn Monroe married Joe DiMaggio at San Francisco City Hall. Every first weekend in October the Hardly Strictly Bluegrass Festival takes place at Golden Gate Park and it is totally FREE: I saw Willie Nelson, Emmylou Harris, Steve Earle, and Ricky Skaggs on stage there! The Beat Movement started at City Lights Book Store where owner Lawrence Ferlinghetti became friends with Jack Kerouac, Allen Ginsberg, William S. Burroughs, and Neal Cassady. They hung out next door at Vesuvio. Pictures are all over the walls of these great men. Go grab a coffee here and you are allowed to bring your lunch and eat it inside!
Visit The Beat Museum on Broadway and relive the times by viewing items belonging to Jack Kerouac, Allen Ginsberg, William S. Burroughs, and Neal Cassady on display. There is a little shop too where you can buy posters, books, CDs, and postcards of this great era in the 1960s. The movies " Bullet ", Dirty Harry, The Joy Luck Club, What's Up Doc, Always Be My Maybe are entirely filmed in San Francisco. The Maltese Falcon with Humphrey Bogart was filmed at John's Grill on Ellis Street: The scene where Sam Spade dines on chops, potatoes, and tomatoes after coming into possession of the falcon. If you go upstairs, you can visit a little museum there dedicated to the movie. Before leaving the waiter will give you a Maltese Falcon keychain. The Aids Memorial Quilt started in San Francisco in 1985 by long-time gay rights activist Cleve Jones who worked with Harvey Milk up to the day of his assassination in 1978. He helped organize the annual candlelight march honoring Harvey and Mayor Moscone.
He asked the people to write down a name on a card of a person they had lost to Aids. At the end, Cleve Jones stood on a ladder and taped the cards to the walls of the San Francisco Federal building. It looked like a patchwork quilt. Cleve then decided to make plans for a larger memorial. He wanted to make a real-life size quilt made of patches of fabric. The NAMES Project Foundation was a fact, and the public response was overwhelming: they sent patches, they created themselves, with a name to San Francisco and others donated sewing machines and other materials.
The Quilt was shown for the first time during The National March for Lesbian and Gay Rights in Washington DC on October 11, 1987. It was larger than a football field and it included 1,920 panels. Today the Quilt has almost 50,000 panels dedicated to more than 105,000 people who died of Aids. If you sign up with Katy and her LGTBQ Castro Tour, you get to see the quilt as she has access to the building where it hangs on the wall now: Her website is cruisinthecastro.com: She is the best and knows everything. Or you can see it online: aidsmemorial.org/interactive-aids-quilt
A lovely stroll I can recommend to anyone visiting the city: Start at Fisherman's Wharf and walk along the water and keep Ghirardelli Square on your left.
Walk up to Fort Mason where you can see The Golden Gate Bridge in the distance from the highest point. When you walk down you are in The Marina district, and you can get yourself a deserved coffee at Safeway's.
Continue walking along the water and you see the Grand Red Lady coming closer and closer. It is a magnificent sight to see!
I remember the first time I walked across the Golden Gate Bridge: That moment was so powerful and meant so much to me, I started crying. I couldn't believe I was there.
The Yerba Buena Gardens has a great waterfall. Go behind it and you will find Dr. King's " I have a dream " speech on the wall with pictures.
Go to Filbert Street and start climbing those stairs: 400 steps in total until you reach Telegraph Hill Boulevard. You only need to climb another 100 steps and you are at The Coit Tower.
The Fairmont Hotel on Nob Hill was one of the few buildings who was not destroyed by the 1906 earthquake: the small building opposite the hotel withstood it too. The hotel was used in the 1980s TV-show "Hotel" with James Brolin, and it still looks the same. The lobby with the grand staircase is breathtaking! Its signature guest has his own statue outside: Mr. Tony Bennett!
The only way to see everything the hotel has to offer is to either book a room or sign up with San Francisco City guides on their website sfcityguides.org. I did the tour in 2019 and guide Eric showed me everything from the basement to the ballroom and the roof terrace. It is a free tour, but you can show your appreciation by making your own price of what you think it was worth and give it to Eric. San Francisco City Hall is a stunning building, and you can go in there and roam around: The beautiful 3-way staircase is a looker!
Walk up there to the next level and you will see the head busts of famous San Francisco political figures: Diane Feinstein, Harvey Milk, George Moscone, Willie Brown, and Gavin Newsom.
If you walk down Columbus Avenue towards the city, passed the City Lights Bookstore, you see a green building on your left that says "Zoetrope Café":
This building belongs to Francis Ford Coppola. Inside is not only the café but also his movie production company American Zoetrope.
One of the waiters told me that Francis did his casting for "The Outsiders" in one of the rooms in the basement! Go sit outside or inside and have a coffee. If you are lucky, he might walk in!
Take one of the catamaran boat tours which sail underneath The Golden Gate Bridge or take the ferry to Sausalito and take the bus back: It goes over the bridge!
I could go on and on about my beloved city that I call home as there is so much to see and to do! I am at my happiest when I am in San Francisco.
In Tony Bennett's words: I left my heart in San Francisco.