Harvey Milk: The Number One Queen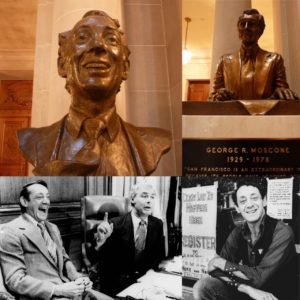 By Karen Beishuizen
Let me explain the title of this article first before people get their knickers in a twist and think it is offending: Harvey called himself "Number One Queen" in his first meeting with San Francisco Mayor George Moscone. He said that this was the way to get the city's Gay votes which was a quarter of the city's voting population. Now we have this out of the way let's continue! My love for Harvey Milk started after reading the book "The Mayor of Castro Street: The Life and Times of Harvey Milk "by Randy Shilts. I was mesmerized by this man who was so honest about who he was that he didn't take any crap from nobody. A man who wanted to change the lives of LGTBQ people for the better. He became a member of the San Francisco Board of Supervisors in 1977 only to be assassinated 11 months later on November 27, 1978. Not only him but also Mayor George Moscone.
The killer was the former city supervisor Dan White. Harvey was born on May 22, 1930, in New York of Lithuanian Jewish parents. He graduated from New York State College for Teachers, majoring in mathematics. Harvey joined the US Navy during the Korean War, aboard the submarine rescue ship USS Kittiwake. He was a diving officer. He resigned from the Navy as a junior lieutenant with an "other than honourable" discharge as he didn't want to face court-martial because of his homosexuality. Moving around a lot and working as a teacher, insurance broker, researcher, and his last job at an investment company. He got fired because he refused to cut his hair.
He met Scott Smith who was 18 years younger. They moved to San Francisco and opened a camera store on Castro Street in March 1973. Harvey became more interested in politics when he had no other choice than to deal with it. A good example is when a government official entered his camera shop and told him he owed the state 100 dollars as a deposit in state sales tax. He was furious and complained at the state offices for weeks and he saw the amount go down to 30 dollars. He knew he had reached the point of no return: Either get involved or shut up. In the 1973 city supervisor elections Harvey ran on a liberal platform in which he opposed government interfering in private matters of sexual nature and he wanted marijuana to be legalized. His speeches were passionate, and he knew how to play the media. He was a natural at that and earned 16,900 votes which was the whole of the Castro District.
Out of 32 candidates he became 10th. Another example of Harvey's savviness was shown when The Teamsters were organizing a strike against Coors who refused to sign a union contract. They came to Harvey for help. They wanted him to talk to the Gay bars not to sell Coors beer. Harvey, in return, asked them to hire more Gay drivers. They had a deal. Harvey ran again for Supervisor in 1975. His growing support consisted of The Teamsters, firefighters, and construction workers. The camera store on Castro became Campaign HQ. Right from the start he had a supporter in George Moscone who was elected San Francisco Mayor in 1975. When Moscone choose a new police chief, he told the man to announce that gay police officers were welcome. This made the headlines everywhere and Moscone and the police chief were hated by the police department for this.
In 1977 the supervisor elections were changed, and people now could choose supervisors from their own neighborhood instead voting them in via citywide ballots. Harvey quickly became the leading candidate in District 5: Castro Street. With Anita Bryant and her campaign against homosexuality and with all the gay rights being repealed all over the country, gay politics became the main campaign issue in San Francisco. 17 Candidates, more than half of them gay, entered the next election for supervisor. Harvey ran on the following words: "I represent the gay street people—the 14-year-old runaway from San Antonio.
We have to make up for hundreds of years of persecution. We have to give hope to that poor runaway kid from San Antonio. They go to the bars because churches are hostile. They need hope! They need a piece of the pie!" On election day, November 8, 1977, he won by 30% against the 16 other candidates. As he received more and more death threats, he started recording his thoughts on tape and who should take over from him in case he was killed.
He added "If a bullet should enter my brain, let that bullet destroy every closet door" Harvey's swearing in as the first openly gay man in public office made national headlines. Together with him 3 other people were sworn in: single mother Carol Ruth Silver, Chinese American Gordon Lau and African American woman Ella Hill Hutch. They were all firsts for San Francisco. Another first-time supervisor was former police officer and firefighter Daniel White. The man who would assassinate Harvey Milk and Mayor Moscone. Harvey began his role as supervisor with sponsoring a bill that prohibited discrimination based on sexual orientation. The bill passed and the only one who voted against it was Dan White.
His next bill was the pooper scooper law in which dog owners were required to scoop up their dog's poop. It passed and Harvey took the press to a nearby park to explain why the bill was important. He stepped into dog poop on purpose on national television and never received so many fan mail in his life. Dan White resigned from his job as supervisor on November,10, 1978 with the reason his yearly salary could not support his family. A few days later he requested his old job back, but Harvey and other supervisors persuaded Mayor Moscone not to rehire him.
Moscone planned to announce White's successor on November 27, 1978. On that day Dan White entered City Hall 30 minutes before the press conference through a window to avoid metal detectors who would have detected his gun. He went to Mayor Moscone's office first and fired four bullets: shoulder, chest and two in the head. Then he went to Harvey's office. Dianne Feinstein heard the shots and ran to his office: she found him lying face down on the floor. Shot five times. Twice in the head.
Instead of announcing a new supervisor, she had the difficult task to tell the world: "Today San Francisco has experienced a double tragedy of immense proportions. As President of the Board of Supervisors, it is my duty to inform you that both Mayor Moscone and Supervisor Harvey Milk have been shot and killed, and the suspect is Supervisor Dan White." Harvey Milk was 48 years old. George Moscone was 49 years old. That evening up to 40,000 people walked from The Castro to City Hall in a candlelight march to honor Harvey. Six thousand people attended a service for the slain Mayor Moscone. Harvey's remains were cremated and half of his ashes were scattered in San Francisco Bay. The rest were buried in front of his old camera store beneath the sidewalk.
Dan White's trial was a joke with an all-white jury. His lawyer said that White's mental state was bad because of eating junk food the evening before the murders. Newspapers called it the Twinkie defense. He was acquitted of first-degree murder but found guilty of voluntary manslaughter of both victims and served 5 years in prison. 43 years after his murder Harvey Milk's legacy is still unshattered in the LGBTQ community. His Hope speech is legendary: "And the young gay people in the Altoona, Pennsylvanias and the Richmond, Minnesotas who are coming out and hear Anita Bryant in television and her story.
The only thing they have to look forward to is hope. And you have to give them hope. Hope for a better world, hope for a better tomorrow, hope for a better place to come to if the pressures at home are too great. Hope that all will be all right. Without hope, not only gays, but the blacks, the seniors, the handicapped, the us'es, the us'es will give up. And if you help elect to the central committee and other offices, more gay people, that gives a green light to all who feel disenfranchised, a green light to move forward. It means hope to a nation that has given up, because if a gay person makes it, the doors are open to everyone"
If Harvey had been alive today and I would have met him, I know we would have had a blast. We would have been friends for life.
That's the reason I always go to City Hall whenever I am in San Francisco. Walk up that staircase, to Harvey's bust and put my hand on his cheek in respect and admiration and love.