Lockdown, Lowdown… Ringside Report Looks Back at the TV Show Hamish MacBeth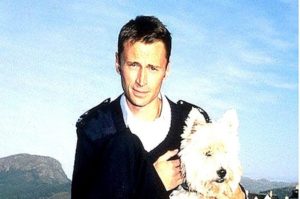 By Donald "Braveheart" Stewart
Quirky and different, the headline for this series was that the protagonist, a Highland policeman smoked pot. It was certainly hoping to be different – but the originator of the stories was not so happy about it…
For those of us within the Scottish theatre who knew many of the faces that were about to be placed on television screens, it was a brilliant opportunity to have Scottish actors front and center. It ran for 3 series and 20 episodes and provided that platform for Billy Riddoch, Brian Pettifer, Shirley Henderson, Barbara Rafferty, Valerie Gogan, Ralph Riach and of course Robert Carlyle. These are names that may mean nothing to many but to their compatriots in Scotland they were faces we knew and many we instantly recognized. I certainly was aware of all of them and had seen them onstage throughout my wee country.
Now they were getting serious exposure.
The premise was simple – based on the novels of Marion Chesney (M. C.) Beaton, local police officer, Constable Hamish Macbeth, played by Robert Carlisle, based in a Highland village – Lochdubh – kept the peace. Ably supported by his wee dog, Wee Jock – a west highland terrier – he did so by being an unorthodox interpreter of the law. With a degree of social conscience, he attempted to maintain order with a degree of sanctity for those who may transgress but clear lawlessness was pursued and punished.
It gave the whole enterprise quite the originality that made it a hit.
There was plenty of narrative complexity with Macbeth himself clearly attracted to both the local journalist – Isobel Sutherland – played by Shirley Henderson – and the author Alexandra "Alex" Maclean – played by Valerie Gogan. He also has help from TV John – beautifully portrayed by Ralph Riach – who seems to have the gift of clairvoyance… There was plenty in the 3 series to love, not just the beauty of the countryside in which it was set – filmed in the west coast of Scotland around the Kyle of Lochalsh and Plockton. It did not shy away from some tensions around our rural neighbors – we got the tensions of the incomer as Barney Meldrum – played by Stuart McGuigan – from Glasgow has to put up with being "accepted", the problems of rural life and the tensions of real social issues came with Barney's wife, Agnes – played by Barbara Rafferty – who had a son she had when she was 16 return to reunite with her and the closeness of each character in a wee village lead to the usual sexually related liaisons as local shop keeper, Rory Campbell – played by Brian Pettifer – was very close friends with local teacher and owner of the boarding house, Esme Murray – played by Anne Lacey.
Disaster and tragedy did come visiting and the death of both the original wee Jock, Macbeth's dog as well as when Alex McLean falls down a cliff and dies did not detract from the overall lightness of touch which was the charm of the series. We loved it because of its gentile nature but also because of its ethics. This a challenging in quite a subtle way – we did have to confront things but were brought to the table rather than dragged.
The three series were a gentile reminder that the BBC, a public broadcasting company have the responsibility to deliver material which might not have an initial commercial value and should be investing in the work of its local artistry. Beaton, a Scottish writer who was born into a tough neighborhood in Glasgow, rose to be a hugely popular author. Her books sold millions, but the critics seemed to ignore her. As well as Macbeth she also created Agatha Raisin, which is now also a massive TV hit in the UK. She liked the Raisin TV version but was not so keen on Macbeth. Caustically she made no secret of her disappointment and responded to the series by penning a new Macbeth novel entitled, Death of a Scriptwriter!
It's an unfortunate epitaph to the series as Beaton writes such wonderful novels but for me the TV series stands the test of time, not because it does stay faithful to the source material but because it sprung from it and gave it a new lease of life. I have not delved into the novels in any depth but have read many of the Raisin books, listened to Penelope Keith portray the character on radio and love the new TV adaptations but Macbeth gave us a new direction for Scottish TV and for crime drama – and for that it deserves credit.
British television is a curious affair. Begun through the British Broadcasting Corporation (BBC) it is funded through the universal license fee. In essence, if you wanted to watch the television, you had to pay the license fee. The BBC got it all and is state run, albeit at arms-length. Then came along commercial television in the form of the Independent Television (ITV) in 1955. Designed to bring a bit of competition to the BBC, it was paid for through advertising but still free to air… well they didn't add another license fee to it. By the time that I was born, 1965, there was BBC1, BBC2 and ITV. And that was it. It was still years before Bruce Springsteen would moan that there were 55 channels and nothing on but here in the UK, we kept this going until in 1982, we added a fourth channel and in 1997, a fifth. With sparkling imagination, they were called Channel Four and ehm Channel Five… In between came Sky and we understood what Springsteen meant. And so, my childhood and leading up to early adulthood we had three options… But the programs made were exceptionally good. And so, here is some critical nostalgia as the lockdown has brought a plethora of reruns, new formats and platforms and old classics trying to make their way back into our consciousness as broadcasters flood their schedules with classics… or are they classics at all? Let me take you through an armchair critics' view of what we have to see, to find out… Welcome to the Lockdown Lowdown…