Doctor Curmudgeon® How Could We Forget Tiro?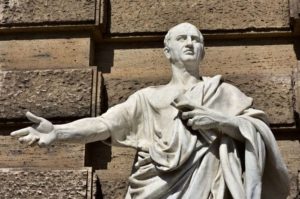 By Diane Batshaw Eisman, M.D. FAAP Doctor Eisman, is in Family Practice in Aventura, Florida with her partner, Dr. Eugene Eisman, an internist/cardiologist
In order to write this column, I was forced to lay down my book.
Indeed, it was a difficult task.
What book could so engross me that it tore me away from any other activities?
"Imperium" is the first book in a dazzling trilogy about Cicero, the brilliant Roman statesman, lawyer and orator. This historical novel is written by Robert Harris, in the voice of Tiro who was the personal secretary, assistant and advisor to Marcus Tullius Cicero.
Tiro was initially a slave who became a freedman and important member of Cicero's household. In addition to serving as a personal secretary, he wrote many books including a biography of Cicero and several on grammar and language. Skilled in so many areas, he was also the trusted manager of the household finances.
Tiro's skills and importance to the household are well documented by others of the time and by the writings of Cicero himself. Tragically, most of Tiro's literary work vanished when the Roman Empire collapsed.
These incredible accomplishments by a former slave occurred at a time in Roman history when slaves were routinely mistreated. Yet Tiro rose to an important position in the life of a powerful man.
Indeed, Tiro was amazing. In those difficult times, we need to understand how rare it was – that a former slave- could achieve such distinction and recognition.
But what intrigued me was his invention of shorthand. He is credited with devising the first Latin shorthand system.
His creation of this system enabled him to record a speech in the Roman senate, word for word. Before this, orations could not be recorded verbatim and thus preserved.
A system of legal notations was already in existence. It was deliberately complicated so that only certain people with specific knowledge could have access to it. Tiro understood the need for a clear system to quickly and accurately transcribe speeches, correspondence and financial transactions.
Devised in 63 B.C.,Tiro's system began with four thousand signs and became known as Notae Tironianae.
Some of Tiro's abbreviations are still in use today: i.e., NB, e.g., etc. &. In Ireland, the symbol 7 is used as an abbreviation for the Latin et, which means "and," and it comes from the Tironian notes.
Tiro! An extraordinary man, a former slave, who became an important member of a powerful household, masterful writer, financial expert, adviser and confidant to Cicero, the famous statesman and orator and yet found the time to develop the first Latin system to accurately and quickly transcribe speeches, transactions and dictation.
Many historians call Tiro "the father of stenography." Rightly so.
And just think! He did it all with a stylus!
Dr. Curmudgeon suggests "Bitter Medicine", Dr. Eugene Eisman's story of his experiences–from the humorous to the intense—as a young army doctor serving in the Vietnam War.
Bitter Medicine by Eugene H. Eisman, M.D. –on Amazon
Doctor Curmudgeon® is Diane Batshaw Eisman, M.D., a physician-satirist. This column originally appeared on SERMO, the leading global social network for doctors.
SERMO www.sermo.com "talk real world medicine"