Lockdown, Lowdown… Ringside Report Looks Back at the TV Show Frankie Drake Mysteries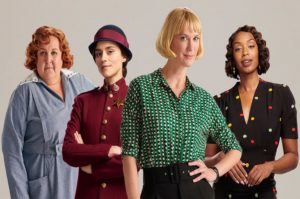 By Donald "Braveheart" Stewart
I have often spoken of my affection for period crime dramas and this one fits right in there. The Frankie Drake Mysteries are 4 seasons and 41 episodes of jazz age Canadian drama which harness the best of their times and the prejudice of their age, for Frankie is a woman.
From its debut in 2017, until it ran out of backers in 2021, Frankie Drake, played by Lauren Lee Smith ran her agency with Trudy Clarke, played by Chantel Riley with the help of two other women in Toronto. They were morgue attendant Flo Chakowitz played by Sharron Mathews and the morality officer Mary Shaw played by Rebecca Liddiard.
The dynamic between the four of them is slightly out of kilter of the time. We can look back, through Frankie Drake's lens of a century ago and consider that the Toronto of the 1920's was an enlightened place where a female detective agency might flourish, that such ana agency, along with a black detective may be tolerated or even successful, and that a morality officer – whatever that may have been – can support by being able to find things out in the police station in which she works without being able to become a full policewoman OR that a morgue assistant seems to have nobody supervising and asking about her looking into things which are, in essence, no concern of hers… We can suspend our disbelief long enough, however, as we are asked instead to buy into male arrogance seeing them all as wallflowers rather than thinking members of the human race.
In terms of characters, added to that is the delightful con artist mother Frankie has, played to perfection by Wendy Carso. Every time she makes an appearance it is a magic carpet flight of fancy upon which you can do nothing but enjoy the journey!
Like The Murdoch Mysteries, another period CBS drama, The Frankie Drake Mysteries are not afraid of involving real life people. This is hardly surprising as Frankie Drake was created by Carol Hay and Michelle Ricci; both women also served as writers and producers on Murdoch Mysteries. We therefore get to see a crossover with Murdoch in George Crabtree making an appearance, as well as Coco Chanel, someone who claimed to be the grand Duchess Anastasia, and Agatha Christie.
Our introduction to Drake and her agency begins with a mystery where Drake herself is a suspect in a robbery! Why? It looks like the work of her dead father – he turns up later on, of course he does! We then get the flavor of the times with communist agitation, dead bodies turning up in luggage, faith healing, jazz, a film set full of intrigue, bootlegging, the war, spies and flying! It is a heady mix, and the narrative drives us forward to find out how The Drake Detective Agency was formed. By the end of the first series, I was more than ready for season two.
Having given us the background season two appeared to be a little more about the struggle of being a professional woman in 1920's Toronto as it relaxed into cons, dance marathon kidnaps, orphanages for black kids, a radio station – full of intrigue – and being a magician's assistant. Corruption in the local police force also becomes a recurring theme, whilst all four principal characters dream of more for themselves and as a result, their personal lives begin to get complex.
The series hit upon a formula which was being comfortably used and it was now getting into its own stride. I was seeing less and less parallels with other dramas and seeing this as one that sat on its own as a really good example of the period crime genre. Season three mixed things up from Frankie boxing to helping her long lost half-brother. The hairstyle change for Frankie, from season three to four did kinda shock but such trivia reminded me of the investment I had made as an audience member who liked it! But, by season four, there seemed to be some form of discontent as it lost CBS backing.
In the UK we got to see it through Sky on the Alibi Channel. It was good to see Lauren Lee Smith in the lead. Smith had been Riley Adams in CSI and seeing her in a new role, and in a lead was testimony to both her abilities and the impact she had previously made.
I yearn for the return of the Frankie Drake Mysteries though in 2022 an animated Mary and Flo: On the Go was released for kids so in some format it lived on! It did manage to ramp up the role of women in TV and look at a time when they were more ignored than noticed BUT it had more than that. It was stylishly produced, well cast and the scripts were really rather good. Canada had once again been pretty damn decent at the historical thing…
British television is a curious affair. Begun through the British Broadcasting Corporation (BBC) it is funded through the universal license fee. In essence, if you wanted to watch the television, you had to pay the license fee. The BBC got it all and is state run, albeit at arms-length. Then came along commercial television in the form of the Independent Television (ITV) in 1955. Designed to bring a bit of competition to the BBC, it was paid for through advertising but still free to air… well they didn't add another license fee to it. By the time that I was born, 1965, there was BBC1, BBC2 and ITV. And that was it. It was still years before Bruce Springsteen would moan that there were 55 channels and nothing on but here in the UK, we kept this going until in 1982, we added a fourth channel and in 1997, a fifth. With sparkling imagination, they were called Channel Four and ehm Channel Five… In between came Sky and we understood what Springsteen meant. And so, my childhood and leading up to early adulthood we had three options… But the programs made were exceptionally good. And so, here is some critical nostalgia as the lockdown has brought a plethora of reruns, new formats and platforms and old classics trying to make their way back into our consciousness as broadcasters flood their schedules with classics… or are they classics at all? Let me take you through an armchair critics' view of what we have to see, to find out… Welcome to the Lockdown Lowdown…