Joe Spano: Acting, Hill Street Blues, NCIS, Theatre and More…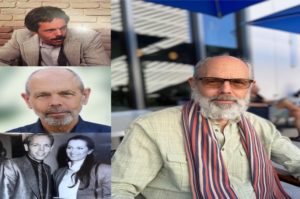 Exclusive Interview by Karen Beishuizen
Joe Spano is best known as Lt. Henry Goldblume in "Hill Street Blues"and FBI Special Agent Tobias C. Fornell in "NCIS" for which he just filmed the season opener: the show is in its 20th year! He also loves being on stage in theatres.
KB: From what age did you know you wanted to become an actor?
I am not sure I ever wanted to be an actor, per se. But I most certainly always wanted to "be seen" and the first inkling of how I might achieve that was to play professional football, which was ridiculous as I did not play football in any organized way, was very bad at it and was way fat. Or maybe the first was me wanting to be a priest, though that was more likely a result of my amazing ability to hold my rosary so piously. At least the nuns thought so. And I did like the idea of being up there on the altar, mediating the relationship between the ultimate and the conditional. Alas (or not), I lasted less than a month in the seminary. But I took a step in my senior year in high school when I auditioned (the very first time) for the part of the wily interpreter, Sakini, in Teahouse Of
The August Moon. It was terrifying and deeply intoxicating to be someone else and myself at the same time. I did not get the part but the director wanted to know where I had been for four years. I spent a first year of college not "being seen" and then jumped out of pre-med in my second quarter at UC Berkeley and skittered down campus into Dramatic Arts. In the course of legitimizing "being-seen", I grew to realize that I could satisfy that addiction while emotionally and intellectually enriching myself and others. That what I was trying to do, had the capability to change hearts and minds. I suppose I became an actor right then and there, but I really think the final blow was the day I told unemployment that I would do nothing else.
KB: You are best known as Lt. Henry Goldblume in Hill Street Blues. You played it from the beginning till the end. How did you get this part and did it ever get boring in all those years?
Long story fairly short: Soon after graduating from UC Berkeley a man named Michael Leibert, who I had worked with when we were both in the Theatre Arts department, had the audacious and courageous idea to start a repertory theatre which was to become The Berkeley Repertory. Another Berkley-ite named Greg Hoblit, who would come to our plays, asked me to do a small part in a film he was shooting up in the Bay Area. He subsequently moved on to LA and started working in film and television down there. When I followed down to LA (with a brilliant BRT production, Dracula: A Musical Nightmare), he was working with Steve Bochco and they were putting together a series called Paris, starring James Earl Jones. They tapped me for a recurring character and when that show ended they gave me an opportunity to audition for their next project, which was Hill Street Blues. Evidently I did ok and thus started 7 whirlwind years. No. It never got boring… It got a hell of a lot of things, but never boring…
KB: You play FBI agent Fornell in NCIS. How did you get this part and again a long running show.
This is the 20th year. Amazing! I had auditioned and got a single-show, guest-star part in the series JAG, which was a precursor, so they knew me already. I think when they started NCIS they offered me Fornell. I had a history with Mark Harmon as well, starting when his show, St. Elsewhere, and Hill Street both shot at the same lot in Studio City, what was then CBS Studio Center, home of MTM (Mary Tyler Moore) Productions.
KB: They seem to pick you often for Law Enforcement roles. Is there a dream role you would like to play?
Yes they do, don't they. No dream role. Life is a dream already. I try to play it as it lays.
KB: You are a veteran stage actor. Do you prefer theatre above TV and movies?
They are certainly different mediums and offer very different experiences for, most strikingly, the actor and the audience and have different rewards and challenges. I think what you are getting at is why theatre is so compelling to some actors and why most actors who have spent some time on the stage hold it in high esteem. On the stage the actor is the immediate "cause" of the audience's experience. In film there are many stages of other artistic input between what the actor does and what the audience experiences. I find myself thinking that what the actor creates in film is raw material for the editor and director (and many others). It is a load of fun, and can be very demanding and I envy and respect those who are able to do it with skill and beauty and depth, but I am much more comfortable with, challenged by and, arguably, better at going out on stage, in front of people, and sharing, in live time, a story that means something deeply to me, whether it be comedy, drama or tragedy. Oh, yeah…film pays better and you only have to remember your lines for a little while.
KB: If you could star in a play or movie and you could pick the director and 3 co-stars: Who would you pick and why?
First of all, movies: I would have Michael Zinberg as director. I have known Michael since Hill Street days and once played his father in a TV movie about his own youth that he wrote and directed. He directs NCIS's regularly and constantly tells me to do things that I am very afraid to do. Then I do them and they are miraculous. Conor Lovett, Sharon Lawrence and Michael Keaton would be my co-stars. Conor and Sharon I have worked with and I choose them because of their deep truth and consummate skill and the real presence and consideration with which they approach others. Michael Keaton, I do not know personally. I first saw him in Beetlejuice and he so struck me with his audacity without falsity that I was painfully jealous and immediately thought, "I would so like a piece of that!" I'm sure I could learn something. The play would be directed by Judy Hegarty Lovett, with Faline England, Conor Lovett and Sorcha Fox…Wait a second…that's not a dream cast!…that's the play that I am doing next!… Will Eno's The Realistic Joneses…and…the next question!
KB: You recently opened a play? What is the play about? What else are you up to?
I think you are referring to The Gin Game, with JoBeth Williams, at the Rubicon Theater in Ventura, about a couple trying (and ultimately failing) to connect in a ramshackle old folks home. It was a tumultuous and ecstatic affair, being my first return to live stage since the pandemic hit us. Let me tell you, learning lines is something you have to practice doing or it starts to slip away from you. But we finally did it with the help of the audiences who were as hungry as we to return to the collective and spiritual experience that live theatre is. But back to the dream play and cast…we are doing it! All of the above, the Lovetts, England, Fox and I are gathering in a small town near Paris to submerge ourselves in Will Eno's The Realistic Joneses. I can't tell you what it is about except that it is about 2 couples…4 people.
I never know what plays are about until I dive into them and sometimes not even then. I am not sure that I have to know what a play is about. It may be presumptuous. After a month of rehearsal we will remove ourselves to Ireland and perform as part of the Dublin Theater Festival for 2 weeks, then return to the USA to continue our run at the aforementioned Rubicon and the Laguna Playhouse. Wish me luck!!!!!! Oh, yeah…just shot the season opener of NCIS. I am a lucky guy.