FBI Seizes Mike Lindell's Phone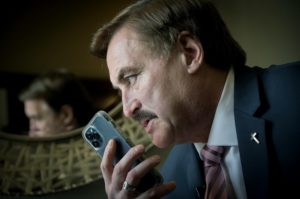 By Nikki Slusher
The MyPillow guy is going through some things this week. While driving through a Hardee's in Mankato, Minnesota, the billionaire was stopped by FBI agents who came with a subpoena to seize his cellphone. In true Trump fashion, Lindell made is way to the far-right conservative networks to inform the entire world of the news.
"A car pulled perpendicular in front of me. Another one to my right. Another one came up behind me, all different kinds of cars," Lindell said. "I opened the door, I said 'Who are you people?' And they said, 'We're the FBI.'"
Lindell also lashed out at both political parties, the media, and government for not supporting him or his fictitious election fraud claims. He also noted in the almost 40-minute interview that the FBI's seizure of his phone was related to the case of the Mesa County, Colorado clerk Tina Peters who has been charged with what authorities have labeled as a "deceptive scheme" to breach voting system technology used nationwide per the Star Tribune's report.
Peter's is facing multiple charges, including criminal impersonation and attempting to influence a public servant. Another Mesa County deputy clerk was also charged, pleading guilty and has been sentenced to two years of probation. Federal authorities also questioned Lindell about Dominion Voter Systems, the company targeted by Lindell's election fraud claims who is suing him for $1.3 billion in defamation damages.
The MyPillow CEO compared the FBI's seizure of his cellphone to the "Gestapo in Nazi Germany," stating he did not want to hand the phone over at first but did so after calling his lawyer, but did so after his lawyer informed him he had no choice. Lindell said that he "conducts day-to-day business for five companies from that phone" per the Star Tribune's report.
Looks like pillow guy is not going to be getting much sleep now that federal authorities have access to his whole life. Don't worry about his business though, he will now be selling MyPhone accompanied with a MySubpoena and all that alleged election fraud evidence (kidding