60 Seconds with Singer and Actress Kaitlin Huwe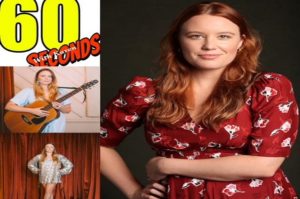 Exclusive Interview by Karen Beishuizen
Kaitlin Huwe is a singer and actress who stars in the Netflix movie "Purple Hearts". She will be releasing an EP for her pop project HUESA called "Vengeance"and a Folk/Americana record coming out early next year with her band The Wholesome.
KB: You are a singer and actress. Did you always want to be both?
When I was little I actually wanted to be a veterinarian! Then I wanted to be a nurse, then a nun, then a doctor, then a professional barista, then a farmer, then I wanted to be a teacher… I can see myself doing so many things in this lifetime. I think that's why I ended up being an actor. I'll get to live so many lives inside of this one. I love learning. I love stepping into someone else's shoes. I love discovering things off the beaten path. If I ever have a choice between projects, I always pick the one that is going to expand me the most, and pull me out of my comfort zone. I came here to experience the full spectrum of life. I sing for the same reason birds do.
KB: If you had to give one up, what would be your choice and why?
Maybe this is weird, but they really don't feel like different things to me, acting and singing feel like different expressions of the same thing. Storytelling and music feel like my right and left arms. If I tried to take one off it would rip me in half. And I don't really know a world that would ask me to give one up. Sure there are times to focus on one more than the other, but what keeps happening is that I keep finding myself in projects that use all of me. Stories with songs, and songs that tell stories. That's the best, when I get to do all my favorite things at once.
KB: How did you get the part in the new Netflix movie Purple Hearts?
I got the script deep in the pandemic. I honestly hadn't auditioned for anything substantial in a year and a half. I sent in a self tape and a week later they asked me to tape it again with a few minor adjustments. They wanted my character to have a slightly harder edge. I happen to be very bubbly, and I think too much of that was coming through in the tape, but they saw something there. I sent in my second tape, and then they formally called me back for a live session. I got on zoom with the Director, Liz Allen, and several producers. The first thing Liz asked me to do was take off my lipstick. She said she was sorry, but that I looked too pretty, haha! That kind of caught me off guard, but I loved it. I was like, "Okay… let's do this thing. raw, and real." Honestly, that callback was really transcendent. I hadn't been directed like that in a long time. Liz helped me build the world around me, she gave me lots of things to think about, lots of little moments to play. She threw a lot at me. I got to improvise a bunch and I was kind of surprised at what was coming out of my mouth.
I used to work in customer service, so all that language just came flooding back to me and I really felt like I was in the world. After the callback I remember feeling so full. Like I had just won the lottery or something. It felt so good to be in such a supportive creative space after a year and a half of isolation during the pandemic. I didn't think I would book the role, but I remember having a feeling that Liz and I were destined to work together again at some point. A week later they offered me the role, and I was over the moon. Then we realized that their shoot dates were going to line up exactly with my best friend's wedding. I was supposed to be singing "Landslide" as she walked down the aisle, in Ojai. The pandemic really put my priorities in order. I realized that I had maybe been sacrificing too much for my acting career, and the things that mattered most to me were my relationships with friends and family, and the health of our global community, and planet. I made an incredibly difficult decision to decline the role. I didn't want to throw a wrench in the production schedule, and I really wanted to be there on my friend's big day. I was pretty devastated.
I went for a walk kind of shocked that I had turned it down, but I knew I made the right decision. I felt such a strong connection with Liz in the callback that I had a feeling that if we couldn't work together on this movie, we would find something else to do together down the line. That's what I told myself, anyway. Then the wildest thing happened. Liz sent an email to my reps asking if there was anything they could do to get me on board. I couldn't believe it. This letter from Liz was like five paragraphs long. She went into such detail as to why she wanted me for the role, and told me how many actors she had seen for it, and how she was willing to do whatever it took to get me on board. I was shocked. I honestly couldn't believe what I was reading. No director has ever sent me anything like that. I'm so used to actors being replaceable. But Liz really fought for me. They ended up moving the shoot around so that I could play Christina. It was surreal. I've never felt such a wave of grace in my acting career. It was definitely one of those moments where I felt so seen and protected. When times inevitably get tough again in this business, I'm definitely going to go back and read that letter to give me an extra push to keep going.
KB: I read that you are releasing a new album? Tell me more about it.
Yes! I have several different music projects that I'm working on. The first thing coming your way is an EP for my pop project Huesa. It's called "vengeance." I wrote it with my dear friend (the one who got married during Purple Hearts!) and she produced it as well. We created this project together during the pandemic and it's really pushed me in ways I could never have imagined. Huesa explores a more sensual, powerful, and wild version of myself. It's almost like she's my witchy alter ego. I have so much fun in those sessions, and I'm absolutely obsessed with what we created together. You can listen to our other EP out on all streaming platforms now. It's called "You Tried to Leave Me Burning" (very witchy indeed!) Second, I've got a full Folk/Americana record coming out early next year with my band The Wholesome.
That's been a long time coming. It's 12 original songs with acoustic instruments. The total opposite from Huesa, and really takes me back to my country roots. The third thing coming your way is a big surprise! I'm getting married at the end of the summer, and I'll be changing my name, and I am developing a new music project that speaks a little more to who I am now. I'm really excited to dive into that process after the wedding, and I can't wait to hear it come to life. I've been dreaming of this next level of my musical expression for a while. It's just been a matter of me finding the right collaborators to bring it to life.
KB: Do you have a favorite movie that you could watch over and over again?
Comfort movies are definitely late 90's and early 2000's Rom Coms. My favorite movie of all time is Legally Blonde. It literally saved me in middle school when I was bullied for being blonde and bubbly. I related so much to Elle Woods, and her kindness and grace was such a guiding light for me. Reese is the queen. I hope I get to work with her someday. And the production design was just a dream! I turned my whole bedroom hot pink because of that movie. That's the best. When a film influences your whole lifestyle. That's when you know it's good.
KB: If you were to star as the lead in a movie and you could pick the director and 3 co-stars: Who would you pick and why?
Ooh this is a toughie! There are so many people on my list. I would love to be directed by Greta Gerwig. I got to meet her when working on a Mike Mills movie, and she has such a cool perspective. I loved her early work, Frances Ha. That film was really special to me when I was in art school. And I think we could make something really cool together, now. I've been developing this play about female friendship, the climate crisis, and a person's right to choose for the last few years. I'd love to do a film version of that. I'd cast Rosario Dawson opposite me. I think she's incredible. It's actually only a two person play… but a few other actors I'm dying to work with are Christian Bale and Kristin Wig. Totally opposite ends of the spectrum but I love a real physical transformation in a role, and would love to riff and improv with Kristin. Nobody makes me laugh like she does. I bet we could make something really silly and fun together.
KB: What is your favorite genre in music and what genre do you love but have not dabbled in yet?
Honestly, I have been dying to rock out a little bit. I feel like I need some electric guitar shredding, and some heavy drums. I've opened up my voice a lot over the last five years or so, and I'm ready to throw down. For a long time, I sort of got put in this box of being the "angelic singer songwriter". I wrote a lot of really sensitive and quiet songs that were soft lullabies. But now I want to play something that people can rock out to. Something that will make them move. Another genre I'm really curious about is jazz. My acoustic stuff has been leaning that direction as I have been writing more, and I'm excited to see where it takes me.
Check out Kaitlin's website