Ron DeSantis Vows To Keep Relocating Migrants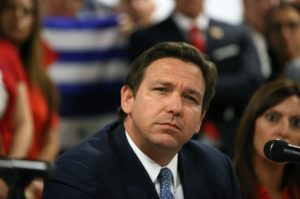 By Nikki Slusher
After flying migrant families to Martha's Vineyard this week, a Florida man is continuing to defend the efforts and hints at more to come. Yes, Florida Republican Governor Ron DeSantis has taken credit for the $12 million dollar taxpayer funded stunt where he sent roughly 50 migrants via charter planes to own the libs.
Even worse is the stories coming from the migrants in the group, who explained how they were duped into agreeing to the flight. "When we got on the plane, they told us they would give us jobs, a place to live, everything," Dela Hoz said through a translator. "The whole group is pretty upset. But they did take us to a nice place."
"I simply feel misled because they told a lie and it has come to nothing," said Pedro Luis Torrelaba, 36. President Joe Biden called DeSantis' antics "playing politics with human beings, using them as props." The migrants were falsely told that "jobs and housing would be waiting for them when they arrived in Martha's Vineyard," advocates and immigration attorneys said. Domingo Garcia, president of the League of United Latin American Citizens, told USA Today the migrants were "given red folders with fake documents promising jobs and housing."
Many of the migrants who arrived in Martha's Vineyard have upcoming mandatory court dates and appointments with ICE in Texas, Washington, and D.C., with some as early as Monday. "It could not be clearer that this is an attempt to ensure that these people are ordered removed, even as they try as hard as they can to comply with the instructions provided to them," said Rachel Self, an immigration attorney who lives in Martha's Vineyard.
At a news conference in Daytona Beach on Friday, Gov. DeSantis said he intends to use "every penny" of the $12 million. He set the expectation for "more buses" and "likely more" flights with migrants paid for by Florida. "These are just the beginning efforts," he said.
Floridians can vote out Ron DeSantis on Tuesday, November 8, 2022.