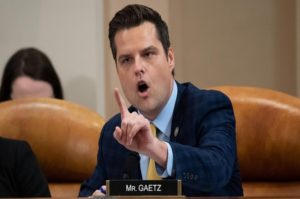 By Nikki Slusher
Republican US congressman and accused sex-trafficker Rep. Matt Gaetz (FL) allegedly sought a pardon regarding the Justice Department's probe, according to new testimony provided to the Jan. 6th Committee. Per CNN and Axios reports, Gaetz told a former White House aide that he was seeking a preemptive pardon from then President Donald Trump.
Sources familiar with the testimony say former White House aide, Johnny McEntee, told the House committee that Rep. Gaetz told him at a brief meeting "that they are launching an investigation into him or that there's an investigation into him". Mr. McEntee did not give further specifics on who was investigating the congressman. McEntee did tell House January 6 investigators that Gaetz said "he did not do anything wrong but they are trying to make his life hell, and you know, if the president could give him a pardon, that would be great."
Federal investigators are looking into whether or not Gaetz, 40, had relations with a 17-year-old and then paid her on Venmo. Recently, Gaetz appeared on Charlie Kirk's podcast where the two seemed to focus on the effects of the reversal of Roe v. Wade will have on the midterm election this November. Gaetz said that the decision will "result in a smaller Republican majority in the House of Representatives." He went on to say that the political outcomes stemming from the Dobbs decision "may end up being good for the country." He's right, it would mean less people like him being in office.
Both Gaetz and Trump continue to deny that he asked for a pardon."Congressman Matt Gaetz discussed pardons for many other people publicly and privately at the end of President Donald Trump's first term," his spokesperson wrote in an email to the Washington Post. "As for himself, President Trump addressed this malicious rumor more than a year ago stating, 'Congressman Matt Gaetz has never asked me for a pardon.' Rep. Gaetz continues to stand by President Trump's statement."
The January 6th Committee's hearings will resume on September 28th. Just in time for the perfect October surprise.