Lockdown, Lowdown… Ringside Report Looks Back at the TV Show Bulletproof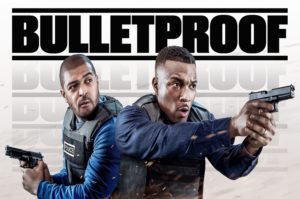 By Donald "Braveheart" Stewart
One of the best things about this was the theme music: All Goes Wrong by Chase and Status. I had never heard them before and afterwards I played the theme on repeat for weeks and weeks. I also loved the cliched premise of this storyline as 17 episodes dropped across the 3 series.
The cop duo fighting crime is now a well-established trope. Two guys, both working as partners has outlived the Starsky and Hutch/ Cagney and Lacey stories to become what we expect from two cops slung together whether an odd couple – Murtagh and Riggs – or the less conventional generationally different partnerships – like Morse and Lewis.
Here we had two of the creators of the drama, Noel Clarke and Ashley Walters play their creations – Aaron Bishop and Ronnie Pike Jr. – and they were black. Avoiding stereotypes and blaxploitation, they were, however, unable to avoid police procedural cliches as these two buddy cops fought against authority, were a complete pain in the backside for their long-suffering boss, Sarah Tanner played by Lindsey Coulson, and proved that their genius was straight from their gut, not always their heads…
The premise was simple.
Best friends and fellow detectives, Bishop and Pike, are after the most dangerous criminals in the UK. Hoping to capture an audience who loved Lethal Weapon and Bad Boys, it had an element of the humor of each as well as the jeopardy of both. Sky TV were behind it and this juggernaut of a producer made sure we all got to see it as they advertised the heck out of it. It was heavily trailed and by the time we got to see it for the first time, expectations were very high.
The first two series were set in the UK with the third in South Africa. Before the beginning of the third series, it was announced there would be a fourth and filming was slotted in. It was never to happen.
Quintessentially British, each series had a tightly focused number of episodes. The South African narrative was filmed over 3 episodes and Sky ensured high enough production values that we never really felt it dropped any standards to ensure we got an "equality" product.
Bishop and Pike though childhood friends had two different pathways to the police. Pike was the son of a high-ranking police officer, now the Director General of the National Crime Agency (NCA), whilst Bishop was brought up in foster homes and was the more streetwise and risk taking of the two. They had plenty of help in their exploits with a team of capable detectives including Jason Maza as Chris Munroe, an NCA Detective Sergeant; David Elliot as Tim "Jonesy" Jones, an NCA Detective Sergeant (series 1–2), Christina Chong as Nell McBride, an NCA Detective Sergeant (series 1); Mandeep Dhillon as Kamali Khan, an NCA Detective Constable (series 1); Olivia Chenery as Scarlett 'Scooch' Hailton, an NCA Detective Inspector (series 2–3); and Lucie Shorthouse as Paige Pennington, an NCA Detective Constable (series 2–3).
The first series, establishing the stars and the buddy cop feel saw Pike and Bishop sort out a criminal car ring which began with the killing of their informant. Violent from the start, we have the familiar revenge motive upfront. The arrival of a nemesis and the darkness of organized crime brought the mafia style "family feel" to their capers, as well as an additional, this time it gets personal vibe. It included Pike sampling prison life, along with kidnapping, murder, corrupt cops, doubts within Pike's family, being thrown off the investigation, questioning your loyalties, all following in a real 6 episode oller coaster ride – ending with a showdown involving the deputy Mayor and Pike's wife in a hostage stand-off.
Of course, the episodes end with the right result, leaving us with series 2 to catch up and strap in or another roller coaster. It extended to 8 episodes with a drugs bust leading to the discover of £1 Million. Bishop goes undercover once it is discovered that the money belongs to a leading crime family – the Markides. Pike then joins Bishop undercover, and we are off on a storyline that sees them uncover human trafficking, become embroiled in a shootout in Amsterdam, discover 3D printed weaponry, dealing with the tragedy of trying to help your friend when their cover is blown, bungling police arrogance and the right result being reached over 8 episodes in the end.
It set up series 3 as both Bishop and Pike, along with Pike's wife and their daughters enjoy a break from crime on holiday in South Africa – until Pike's daughters are kidnapped and they are both front, and center involved in getting the children back from dangerous South African gangsters.
As the series drew to a close and we heard that a fourth was commissioned and due to begin filming, all appeared well in the world. Then Noel Clarke, an iconic black film maker got an award for his work – a BAFTA special award. What could possibly go wrong?
This was, to all of us watching, a quality product, heavily backed by Sky and a train which was never going to stop moving until either Clarke or Walters decided it would come to an end. They had found and joined this vehicle – it had not been their original idea, Bulletproof was originated by Nick Love – but they had taken on the cliches of a cop buddy partnership and given it a very wise cracking, ethnically diverse 21st Century twist.
Unfortunately, Clarke was apparently operating with a 19th Century attitude. To women.
In late April 2021, allegations surfaced of sexual misconduct and bullying against Clarke and one month later the series was cancelled by Sky completely. Clarke has done what he can to continue to work and try to wash his name but there as no appetite for Bulletproof anymore and you may seek in vain to find the series.
This is a pity as it was a decent addition to the crime drama procedural so to have this lost to us was really unfortunate. There appeared to be no appetite to try and keep it going as the central premise – of the two cops – was now a bust. Who knows if Clarke shall ever work again but the biggest shame is that the rest of the cast contributed so much to its success and should not be punished alongside Clarke.
But then again, that's show business.
British television is a curious affair. Begun through the British Broadcasting Corporation (BBC) it is funded through the universal license fee. In essence, if you wanted to watch the television, you had to pay the license fee. The BBC got it all and is state run, albeit at arms-length. Then came along commercial television in the form of the Independent Television (ITV) in 1955. Designed to bring a bit of competition to the BBC, it was paid for through advertising but still free to air… well they didn't add another license fee to it. By the time that I was born, 1965, there was BBC1, BBC2 and ITV. And that was it. It was still years before Bruce Springsteen would moan that there were 55 channels and nothing on but here in the UK, we kept this going until in 1982, we added a fourth channel and in 1997, a fifth. With sparkling imagination, they were called Channel Four and ehm Channel Five… In between came Sky and we understood what Springsteen meant. And so, my childhood and leading up to early adulthood we had three options… But the programs made were exceptionally good. And so, here is some critical nostalgia as the lockdown has brought a plethora of reruns, new formats and platforms and old classics trying to make their way back into our consciousness as broadcasters flood their schedules with classics… or are they classics at all? Let me take you through an armchair critics' view of what we have to see, to find out… Welcome to the Lockdown Lowdown…