Ringside Report Reviews Devil in Ohio on Netflix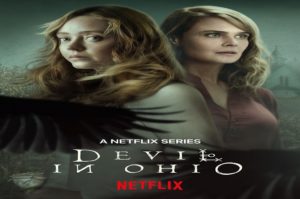 By Janet Grace
The Covid-19 pandemic definitely had us watching more TV than we have in a while. We've all become critics Being able to spot a winner from a flop.
Devil in Ohio was a series I enjoyed, but it did take me for a loop, as it may, you. I met someone in another lifetime, that grew up in a "spiritual" family who's views were quite opposite of what one thinks of when the words "very spiritual" come in to play. Needless to say "Exit Stage Left. Right, Even!" (thank you, Snagglepuss), was what I thought about THAT encounter. When I saw this series being offered on Netflix, I was very intrigued to see how it would play out. What happens to a person's psyche when they live in an upside down reality? Besides the ones wearing clown suits, with one foot in the door of our society, I mean?
Emily Deschanel, better known for her many years playing the lead in the hit series: "Bones", plays a psychiatrist; who, for reasons that reveal themselves at a later point, decides to foster a young woman brought into her hospital who has escaped from a satanic cult.
With three beautiful children of her own, a thriving career, a best friend for a husband … What was she thinking?
This series takes you down a rabbit hole. If you don't mind a slow burn and quite a few twisty turns, this is one for you. You know I'm not into revealing spoilers, so let us leave it at that. Definitely, check this one out. I gave it a 6/10.
Rotten Tomatoes gave it a 45%/100 and IMDb gave it a 5.9/10.
Written by: Aaron Carter and Others.
Directed by: Stephen Adelson, Brad Anderson and Others.
Cast:
Emily Deschanel as Suzanne
Madeline Arthur as Mae
Sam Jaeger as Peter
Gerardo Celasco as Detective Lopez
Xaria Dotson as Jules
Alisha Newton as Helen
Naomi Tan as Dani
Jason Sakaki as Issac Kimura
Evan Ellison as Sabastian Zelle