60 Seconds with Author Diane Chamberlain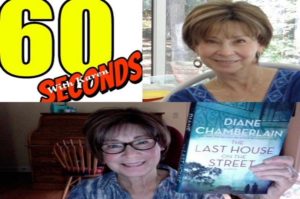 Exclusive Interview by Karen Beishuizen
Diane Chamberlain is a bestselling author of adult fiction. She has written 30 novels in more than twenty languages. Her latest novel The Last House On The Street was published in January 2022. She is currently working on a new one.
KB: What were your favorite books as a child you read over and over again?
My favorite book as a young child, and the book that made me want to be a writer, was Charlotte's Web by EB White. It was my first exposure to a story with depth that made me laugh and cry, and I realized that a human being could write something that elicited those emotions in the reader. I knew I wanted to do that as well.
KB: What inspired you to become an author yourself?
I loved to make up stories. As a teenager, I made up a story (just in my head) about my girlfriends and myself living at the New Jersey Shore with Paul McCartney, James Brown and Mick Jagger. It was quite innocent, but over the years it morphed into a story about a few fictional women living at the Jersey Shore with a few fictional men. One day I was waiting at a doctor's office and the doctor was very late. I finally began writing down that story. It became my first book, Private Relations.
KB: I read that you were a social worker before you started writing. You even had a psychotherapy practice. What made you do the big change and give this all up?
I was a hospital social worker at the time of that doctor's appointment above, but I fell in love with writing. I was also in love with my work as a social worker. I covered the maternity unit and emergency room, and later, the adolescent medicine unit. After that, I had a private psychotherapy practice with teenagers. The whole time, I was writing. Once my books started being published, I had to make up my mind which beloved path to follow.
KB: The Jersey shore and North Carolina background is part of your novels. Does this makes writing easier as you know these parts very well?
I do seem to be a homebody when it comes to my writing, and I love having the two places I know so well as my backdrops. I love to pick out a town in North Carolina that I'd like to explore and set a book there as I get to research the area and get to know the people.
KB: Your novels are about people and their struggles in life. Is there a genre you have not written about, but you would love to?
My book The Dream Daughter involved some time travel, and I thoroughly enjoyed the challenge of figuring out that complicated story. I'd love to do that again, though many of my readers prefer the realism of my other books. So, The Dream Daughter will probably remain my only time travel.
KB: If you could tell me your favorite books you have ever read: What are they?
Well, Charlotte's Web, of course. Mistress of Mellyn and other Victoria Holt novels were early inspirations as were Sinclair Lewis's novels such as Main Street and Babbitt because I was drawn to reading about social justice. In adulthood, books that inspired me were Alice Hoffman's early novels such as White Horses and Anne Rivers Siddons' Peach Tree Road. Some of my recent favorites are Stephen King's 11-22-63, which I've read three times, Geraldine Brooks' the Year of Wonders, and most recently, for sheer entertainment, Lessons in Chemistry by Bonnie Garmus.
KB: Your last novel The Last House On The Street was published in January 2022. Are you already working on a new novel?
Yes, I'm just starting my next novel. I can't really talk about it yet, since my stories always change as I write, but I hope it will be very entertaining!
Check out Diane's website: HERE
Find Diane on Facebook: HERE