Clarence Thomas Grants Block On Lindsey Graham's GA Subpoena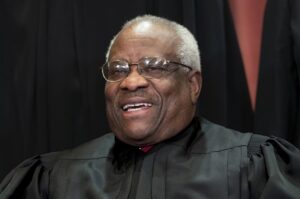 By Nikki Slusher
Every time Clarence Thomas does something unethical an angel gets its wings. Absolutely surprising no one on Monday, this time Supreme Court Justice Clarence Thomas agreed to temporarily freeze a lower court's order for Senator Lindsey Graham's (R-SC) testimony to an Atlanta-based special grand jury.
The special grand jury is investigating whether former President Donald Trump and his allies conspired to illegally overturn the results of the 2020 presidential election in Georgia. Graham's infamous "perfect" phone call to a Republican state official trying to turn the results in favor of Trump to help reverse his loss to now President Joe Biden. Graham argued that his testimony is protected by the Constitution's Speech or Debate clause "which protects legislators from certain law enforcement action for conduct connected to their legislative duties" per CNN.
Last week the 11th US Circuit Court of Appeals had ruled that the "communications and coordination with the Trump campaign regarding its post-election efforts in Georgia, public statements regarding the 2020 election, and efforts to 'cajole' or 'exhort' Georgia election officials" are not legislative activities protected by the Speech and Debate Clause." Sen. Graham asked the Supreme Court to intervene on Friday.
The Senator told the high court in court filings that his phone calls with Georgia officials were regarding the "impending vote on certifying the election," and as chairman of the Senate Judiciary Committee at the time, he was charged with "reviewing election-related issues."
He basically told the SCOTUS that his motives were irrelevant to the protections that Constitution offers lawmakers for legislative conduct, "The district court's and District Attorney's apparent suspicions about motives are baseless, but even assuming otherwise, the Speech or Debate Clause was designed to prevent exactly this sort of examination," Graham wrote. Adding to that, he claimed the lower court's decision was "wrong, also, to think that any other lines of hypothetical questioning would be permissible."
It remains unsure of how the full court will vote on the matter. What remains clear is that it is entirely unacceptable for Clarence Thomas to continue deciding on cases regarding the 2020 election when he should be recusing himself. After all, his wife did try to help overturn it along with Trump, Graham, and the rest of the crazy clan. Thomas will never recuse himself though, because if he does so then he won't be able to help aid the insurrectionists he calls his family and friends in upcoming cases before the court.
Click Here to Order Boxing Interviews Of A Lifetime By "Bad" Brad Berkwitt