Lockdown, Lowdown… Ringside Report Looks Back at the TV Show Ellery Queen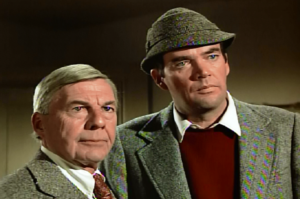 By Donald "Braveheart" Stewart
Ellery Queen was a treat. It broke the fourth wall with Queen himself talking directly to camera, filled the standard trope of a reveal at the end where all the characters were brought into one place to be confronted by him and you were asked what you thought happened and who the murderer was. It was so different. It stood like a shining light amongst the rest of the standard fare we got in the UK.
And I unreservedly loved it.
As a child I thought it ran and ran and ran. Imagine my horror and surprise to find out it lasted 1 series and only contained 22 episodes! How could they be so flippant with my childhood. How dare they!
Now I was unaware it had been a TV series before and that it had been a highly successful radio adaptation but none of that was important in the dark and dank 1970s in Scotland. It was Jim Hutton who I fell for. It was his mellifluous voice, his quirky characteristics and his insight that kept me glued to my screen. As well as Jim Hutton in the eponymous role, it included David Wayne as his father, Inspector Richard Queen and Tom Reese as the Inspector's partner, Sergeant Velie.
A number of film actors and recognizable television stars also made guest appearances – making them a la Columbo, the likely culprits – but even then, I was dumbfounded by how Queen was able to make the connections and resolve the riddle. To add further intrigue onto intrigue I was unaware that Ellery Queen mysteries were based upon novels by Ellery Queen! Of course, it was a pseudonym of Frederic Dannay and Manfred Bennington Lee, but it spawned an industry of how this young man who was a mystery crime writer in New York, helped his police inspector father, the aforementioned Richard, to solve crimes. Father/son combinations have been used in other TV dramas – The Rockford Files and Blue Bloods – in some part since.
This version of the crime busting duo was an NBC production, running from 1975 to 1976. It tapped into nostalgia by being set some 30 years before, in the 1940s, though everything was familiar enough to those of us who followed such things that the quirks of it made an additional reason for watching as opposed to being annoyed that it was so different. What was also different from previous incantations was that this young Queen was clumsy, almost James Stewart like, and there was a rival created specifically for this version – Simon Brimmer, played by John Hillerman. Brimmer was a radio detective, constantly make false assumptions and jumping to wrong conclusions. It also contained an element of humor that was missing from versions previously as Hutton was well able to be a clumsy buffoon but with the explanation to the mystery, we all could not solve.
The pilot was a made for TV movie that got green lit for the full series in '75 but once it was running as series, it did not rate very well. Thankfully international sales clearly led to it coming to the UK, but in the US, it faced stiff competition. Perhaps the quirkiness may have appealed less to an American audience? The writers were not to be cowed, however and took much of the successful working elements of Ellery Queen and went to CBS with an idea that developed into Murder She Wrote.
Almost all of the 22 episodes delved into some form of standard detective fiction from the locked room mystery at the end to being on vacation and being called to investigate something, with many other standard fare, in between. Both father and son characters were for a young boy, really worth watching without having any desire to emulate them but it was a trope for the 40's and not for the 70's. Television was getting out of chaste and safe crime cracking. Even big names like Starsky and Hutch and Kojak were being challenged by things like Cagney and Lacey and more realistic back stories.
Of course, longevity would have been curtailed in any event as its star actor, Jim Hutton, was to tragically die one month after being diagnosed with liver cancer at the tail end of the 1970's. Had the run gone beyond one series we would have lost hat I thought, was the best thing in it. His legacy was to come in the form of his son, Timothy who has contributed more than a little to this very genre!
Ellery Queen had had its time, though now, I would love to just hear that them tune again, have a puzzle to solve that required insight and guide to challenge me with a summary at the end. Of such coziness, Sunday nights were made…
British television is a curious affair. Begun through the British Broadcasting Corporation (BBC) it is funded through the universal license fee. In essence, if you wanted to watch the television, you had to pay the license fee. The BBC got it all and is state run, albeit at arms-length. Then came along commercial television in the form of the Independent Television (ITV) in 1955. Designed to bring a bit of competition to the BBC, it was paid for through advertising but still free to air… well they didn't add another license fee to it. By the time that I was born, 1965, there was BBC1, BBC2 and ITV. And that was it. It was still years before Bruce Springsteen would moan that there were 55 channels and nothing on but here in the UK, we kept this going until in 1982, we added a fourth channel and in 1997, a fifth. With sparkling imagination, they were called Channel Four and ehm Channel Five… In between came Sky and we understood what Springsteen meant. And so, my childhood and leading up to early adulthood we had three options… But the programs made were exceptionally good. And so, here is some critical nostalgia as the lockdown has brought a plethora of reruns, new formats and platforms and old classics trying to make their way back into our consciousness as broadcasters flood their schedules with classics… or are they classics at all? Let me take you through an armchair critics' view of what we have to see, to find out… Welcome to the Lockdown Lowdown…
Click Here to Order Boxing Interviews Of A Lifetime By "Bad" Brad Berkwitt