Q&A with Kenny Wayne Shepherd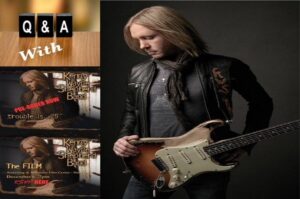 Exclusive Interview by Karen Beishuizen
Kenny Wayne Shepherd is an American Blues singer and guitar player whose album Trouble Is… holds the record for the longest-running album on the Billboard Blues Charts and celebrates its 25th anniversary this year. On 2nd December a new version will be released so check it out!
KB: How old were you when you started playing?
I started playing guitar on the toy guitars my grandmother gave me when I was about 3 years old and got my first real guitar when I was 7. I've always been drawn to the instrument and how expressive it is.
KB: I read that you are self-taught and can't read notes?
That is correct. I used to listen to music on cassette tapes a few lines at a time and stop the tape to find the notes and then continue on. Eventually, it started to make sense to me, and I could play by ear. I still don't read music.
KB: Who was your guitar hero growing up and why?
I had a lot of guitar heroes growing up. Everyone from Jimi Hendrix to Stevie Ray Vaughan to BB King to Albert King to Hubert Sumlin and the list goes on and on…
KB: Irving Azoff gave you a record deal when you were very young. What's the story behind this?
I was 16, but Irving heard about me and reached out to my entertainment attorney. My attorney sent him a video tape of one of my concerts and the rest, as they say, is history.
KB: Your debut album Ledbetter Heights has the great song Born With A Broken Heart: What is the story behind this song?
The song is a tribute to the many legendary artists in Blues and other genres that influenced me and contributed so much to music history but unfortunately passed away "before their time".
KB: Your second album Trouble Is… has its 25th anniversary this year. Can you recall how it was making this great album? What is your favorite song on it?
We are actually releasing a documentary on the making of Trouble Is… this December as part of the celebration of the 25th Anniversary. We've been doing a lot of Trouble Is… Anniversary shows where we perform the album in its entirety, and it's been great to see the music has definitely stood the test of time. As for a favorite song, I couldn't name one, they are like children – each has its own special meaning to me.
KB: Your DVD 10 Days Out: Blues From The Backroads is just awesome! What was your favorite moment?
That's a very hard question to answer. Each day was absolutely spectacular. There were so many incredible moments it's actually impossible to choose a favorite. I will say that playing with BB King on my birthday in his hometown of Indianola MS was a real treat.
KB: Are you working on a new album or new songs?
I have a lot of projects in the works right now. The Trouble Is…25 project will be released on December 2nd, which has a new re-recording of Trouble Is…and we are releasing that new version on a double vinyl album (which we never released for the original). There will also be a documentary on the making of Trouble Is… and a dvd or Blu-Ray of a live concert of us performing Trouble Is… in concert in my hometown of Shreveport LA which was the first show of the tour. We also have a yet to be released entirely new studio album of all new material that I hope to release sometime next year.
KB: You are in the midst of touring with special guests: Tell me more about it.
We have been on the road with some amazing talent this year, from Samantha Fish to Ally Venable to the Backroads Blues Festival tour I launched this year with Christone Kingfish Ingram and Buddy Guy. The Backroads Blues Festival is going to be an annual touring Blues Fest featuring the hottest talent in the genre today.
Check out Kenny's website: HERE
Find him on Facebook: HERE
Click Here to Order Boxing Interviews Of A Lifetime By "Bad" Brad Berkwitt