Ringside Report Reviews Where The Crawdads Sing On Netflix – Entertainment News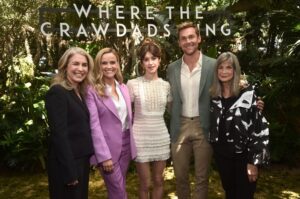 By Janet Grace
To Kill A Mockingbird was a book read to me by my older sister, while teaching me to read. We took that book apart until I could spell "Atticus" and "Calpurnia" correctly.
Rife with unjustified realities, it pulled at our heart strings for we; too, witnessed situations which; while being too young to comprehend the reasoning for their existence, felt they made no sense, at all.
Based on American Author, Delia Owen's, best selling book of the same title, "Where The Crawdad's Sing" shares a similar flavor to "Mockingbird" in that it also deals with racial and class prejudice, subjugation on many levels and a trial 'by fire' when the main character, Kya, known by the townies as: "Marsh Girl", is accused of murder.
"Mockingbird" and "Crawdad's" settings share the beauty of the wilderness known in the deep south and the harshness of a trial brought about by fear and misunderstanding rather than facts and truth.
"Crawdads" is a story dealing with survival of the fittest. A young child abandoned by her family, raises herself on her own using the nature surrounding her as her guide. The richness and wealth she finds in the simplicity of nature, raises her to be so much more than those in town who turn their noses up at her.
There comes a time she also obtains the help of an "Atticus" in her life, and I'll leave it right there…
If you do come across it, give it your time. It is well worth the viewing.
Written by Delia Jones
Screenplay by Julia Alibar
Directed by Olivia Newman
Main Cast:
Daisy Edgar-Jones
Jojo Regina
Blue Clarke
Taylor John Smith
Harris Dickenson
David Strathairn
Michael Hyatt
Sterling Macer, Jr.
Logan Macrae
Bill Kelly
IMDb gave it a 7.1/10
Rotten Tomatoes gave it a 37% and the audience gave it a 97 %.
I concur at 97%.
Click Here to Order Boxing Interviews Of A Lifetime By "Bad" Brad Berkwitt