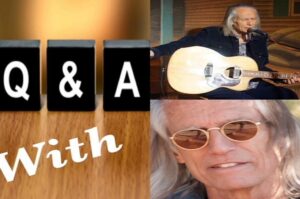 Exclusive Interview by Karen Beishuizen
John York is a bassist and guitarist who played with The Sir Douglas Quintet, The Mamas and the Papas and The Byrds.
KB: How old were you when you started playing bass guitar?
I was 18 or 19.
KB: You were a member of the Sir Douglas Quintet with the great Augie Meyers: How did you get to play with them?
When their bass player went back to Texas, I was brought in by a friend who was in the band, Peter Ferst. He was playing trumpet and organ.
KB: You worked as a session musician with The Mamas & The Papas?
I was in their touring band. I did play on one song called "Rooms."
KB: You replaced Chris Hillman in The Byrds: Who asked you and why did you leave after only 1 year?
I had played some gigs with Clarence White in Gene Clark's band. Clarence was in the Byrds already when Chris left. I left the band because I needed a change. I wanted to do something different.
KB: Who did you work with as a session musician in your career?
It is impossible to list or even remember so many musicians I recorded with since 1965.
KB: You toured with Barry McGuire and P.F. Sloan: How was that and what kind of music did you play?
It was wonderful. We mostly played music from the 60's. And P.F. 's song of course.
KB: Is there a music genre you have never played but you would love to?
Some kind of improvisational and creative music…though I did do that many years ago.
KB: If you were to make an album with your 7 most favorite songs: what would you pick and why?
It would depend on how I was feeling at the time.
KB: Are the any current artists you would love to collaborate with?
I'm open to collaborating…. if the vibe is right.
KB: What are you currently up to?
I am playing concerts locally…mostly solo.
Check out John's website: HERE
Click Here to Order Boxing Interviews Of A Lifetime By "Bad" Brad Berkwitt