Legendary News Anchor Barbara Walters Dies at 93 – Entertainment News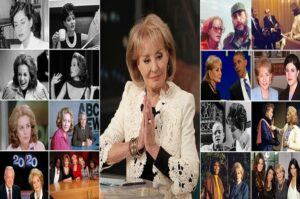 By Geoffrey Huchel
Longtime ABC News anchor and journalist, Barbara Walters, passed away December 30 at her home in New York City. No cause of death was given. Walters had been in declining health for several years. She was 93.
Barabara Walters was one of the most recognizable news anchors in the world. She was known for her impeccable interviewing prowess and her ability to connect with viewers.
She was born on September 25, 1929, in Boston, Massachusetts. She began her career in television in 1962 when she joined THE TODAY SHOW (1952-) as a writer and researcher, and then became the "Today Girl", reporting lighter assignments and weather. She remained with TODAY until 1976, moving on to ABC EVENING NEWS, from 1976-1978. After EVENING NEWS, she moved on to the popular news program 20/20 (1978-), which is perhaps what she is best known for. She anchored 20/20 from 1979-2004.
Walters co-created and served as co-host of the long-running talk show THE VIEW. She served as co-host from 1997 until 2014, and although retired, she returned as a guest co-host on an intermittent basis throughout 2014 and 2015. Walters was also known for having interviewed some of the most famous and influential people, including Margaret Thatcher, Fidel Castro, and Indira Gandhi, and dozens of celebrities from TV, film, music, multimedia and sports.
Walters was honored with several awards for her contributions to journalism including induction into the Television Hall of Fame, Daytime and Primetime Emmy Awards and a star on the Hollywood Walk of Fame.
Ringside Report sends our condolences to Barbara Walters' family during their time of grief.
Click Here to Order Boxing Interviews Of A Lifetime By "Bad" Brad Berkwitt