Doctor Curmudgeon® Man Inserts WWI Bomb in Rectum to Intensify Orgasm! What's Next?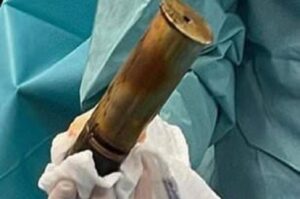 By Diane Batshaw Eisman, M.D. FAAP Doctor Eisman is in Family Practice in Aventura, Florida with her partner, Dr. Eugene Eisman, an internist/cardiologist
In my vast century's long career as a physician, I have seen many things.
Mt patients have told me of exploits that seem unusual to me.
Always, I do my best not to judge.
However there does come a time when I loudly shriek to the universe, "What the f*ck?"
The above verbal explosion was simply beyond my control.
This momentous occurrence of which I now write, popped up all over.
So many blurbs and articles with the same story.
In the Daily Mail!
The Jerusalem Post ran it.
It broke on the Jamaica Star.
With all going on in the world, this incident had its own bizarre precedence.
Did it involve a Head of State?
Climate change?
The horrible atrocities perpetrated on the Ukrainian people?
The direction of the world economy?
Another disaster?
It occurred in the romantic South of France. And it concerned a patient who was treated at the Hospital Sainte Musse in Toulon.
It was not one of the typical Saturday night hospital trips,
Not the meeting of the "Gun and Knife Society," as we used to say when I worked the ER.
Not the typical tragedies that frequented the hospital; of strokes, heart attacks, bruises, too much alcohol, labor and deliveries.
Oh no! This was an unusual Saturday night dash.
An elderly gentleman arrived at the emergency room stating that there was something in his rectum.
Indeed, something was lodged within his anus.
Var-Matin, the French media outlet reported that the patient had decided to insert an ancient World War I artillery shell right up into his unsuspecting butt.
And of course, personnel proceeded accordingly. They sounded the alarm and evacuated the hospital.
And, upon examination, physicians discovered a World War I artefact. It was an artillery shell, almost two inches wide and eight inches long. Yes, indeed he had stuffed something up there.
On that late Saturday afternoon in December, 2022 people were observed running for their lives, away from the emergency room.
A bomb disposal squad entered the premises of Hospital Sainte Musse.
Emergencies were diverted to other hospitals in the area.
Andrew Court, reporting form the New York Post writes that a hospital spokesperson said, "An emergency occurred from 9 P.M. to 11:30 P.M.; on Saturday evening that required the intervention of bomb disposal personnel, the evacuation of adult and pediatric emergencies as well as the diversion of incoming emergencies."
The hospital was told by the bomb disposal experts that there was little likelihood of the shell exploding within the man's rectum.
Mr. Court further quotes the hospital, "They reassured us by telling us that it was a collector's item from the First World War used by the French military."
Whew!!! At least it was not an enemy shell!
Physicians bravely tried to remove the shell from the man's rectum, but eventually the patient went to surgery and it was removed through an abdominal incision. It appears that he recovered fully and was discharged home.
Why did this eighty eight year old man, who should have known better, insert this into his rectum?
It was speculated that he did it to enhance his orgasm.
Ye Gads! Cialis and Viagra seem a lot safer to me and do not require surgery for their removal.
When I was a medical student, we were shown x rays of a coke bottle inserted into a rectum. At least the surgeons did not fear for their lives when they removed it.
And now I sit her quite calmly.
I muse.
What is next?
Dr. Curmudgeon suggests "Bitter Medicine", Dr. Eugene Eisman's story of his experiences–from the humorous to the intense—as a young army doctor serving in the Vietnam War.
Bitter Medicine by Eugene H. Eisman, M.D. –on Amazon
Doctor Curmudgeon® is Diane Batshaw Eisman, M.D., a physician-satirist. This column originally appeared on SERMO, the leading global social network for doctors.
SERMO www.sermo.com "talk real world medicine"
Click Here to Order Boxing Interviews Of A Lifetime By "Bad" Brad Berkwitt