Trump Drops Lawsuit Against NY AG James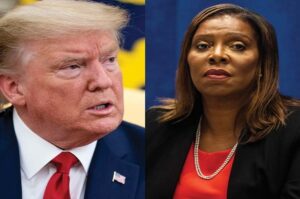 By Nikki Slusher
This year is off to a rough start for former President Donald Trump and we love to see it. On Thursday the former guy was forced to pay almost $1 million after a district court threw out his lawsuit against Hillary Clinton, former FBI Director James Comey, former FBI officials Peter Strzok and Lisa Page, Rep. Adam Schiff (D-CA), and others.
Trump and his lawyer Alina Habba will be required to pay approximately $938,000 which will be split amongst the dozens who were listed in his lawsuit. The suit by Trump claimed that the named high-profile individuals of conspiring to tank his 2016 campaign (something Trump was able to sink on his own in 2020).
"Here we are confronted with a lawsuit that should never have been filed, which was completely frivolous, both factually and legally, and which was brought in bad faith for an improper purpose," wrote Judge Donald Middlebrooks. He continued, "Mr. Trump is a prolific and sophisticated litigant who is repeatedly using the courts to seek revenge on political adversaries. He is the mastermind of strategic abuse of the judicial process and he cannot be seen as a litigant blindly following the advice of a lawyer."
After the fines were announced Trump immediately withdrew a similar lawsuit he fired against New York's Attorney General Letitia James. He was suing James as a retaliation for her investigation into Trump, his business partners and company after it was discovered they had been falsely adjusting the value of his properties for tax breaks while overpricing the value to obtain loans. Yes, this is extremely illegal and fraudulent and anyone who has done so would be in trouble. It was not a witch hunt, just Trump getting caught red handed after the Trump Organization's CFO took a plea deal and spilled all the beans.
Overall I'm just happy to see that our courts (besides SCOTUS) are operating smoothly and are holding people accountable where the executive and legislative branches are not. More judges should follow Judge Middlebrooks' lead and stop allowing these crazy, frivolous lawsuits to back up our courts. Trump is learning that his usual tricks (like suing people until they run out of money) aren't going to get him out of the huge mess he's made.
Click Here to Order Boxing Interviews Of A Lifetime By "Bad" Brad Berkwitt