Michael Monarch: Steppenwolf, Janis Joplin, Detective, World Class Rockers and More…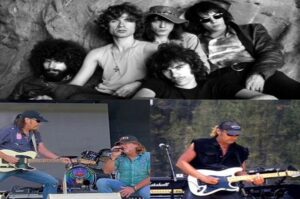 Exclusive Interview by Karen Beishuizen
Michael Monarch was the Lead guitarist with Steppenwolf. Their biggest hit "Born To Be Wild" is still one of the greatest rock songs ever, even after 50 years. When he is not touring with supergroup World Class Rockers, he plays with Jimmy Payton in the Payton Monarch Band.
KB: Was music always your first love?
I was interested in music and wanted to play drums from an early age. At school I saw a kid with drumsticks in his back pocket and I thought that was so cool. I asked my parents for a drum set and lessons, but they said if you want to learn music you have two choices …. classical piano or violin. I opted for piano and started taking lessons. After many years of piano lessons, I finally got a drum set. I switched to drum lessons and started to play in a local band with friends. In the meantime, I had picked up guitar and taught myself. I am very grateful now for the piano lessons. I still play keyboards in my studio for writing and recording.
KB: When did you pick up your first guitar?
I think the first guitar I played was my friend's Fender Mustang guitar through his brand-new Fender Deluxe Amp he got for Christmas. His name was Lyle and he lived across the street from me. I would play drums and he was learning guitar and we practiced in my garage (much to the other neighbour's chagrin). By the age of 15 I had switched to guitar.
KB: You were only 17 when you played Lead Guitar for Steppenwolf. That is very young. How did you become a member?
I had been playing guitar by this point for a few years in different local L.A. bands. I was introduced to the band Sparrow who were down from Toronto, Canada trying to get something going in the L.A. music scene…. actually, without much luck and had decided to break up. I originally met Nick St. Nicholas, the bass player who wanted to start a new band with me. Sparrow's original guitarist Dennis had decided to leave the band too. I ended up replacing him and they (Sparrow) found a new bass player and we started rehearsing and playing clubs in California. One day while rehearsing in a tiny one car garage in Hollywood filled with amps, drums and a big Lawry organ, a neighbour who was passing by heard us and got interested. He happened to be a young record producer and he wanted to get us signed to the label he was working with, ABC Dunhill Records. He liked the music, but he thought we needed a better name for the group. He had just read a book by a German author called Steppenwolf and thought that would make a great name for us.
KB: You played Lead Guitar on Born To Be Wild: One of the greatest songs ever. Even after more than 50 years. How does this make you feel knowing you were a huge part of it?
Of course, it is amazing to be a part of music history. Over the years I have met so many people who were affected by that song. I guess it brings back certain memories of a time passed when they were young. It was a big hit in 1968 and it was used in the soundtrack of the movie "Easy Rider" released in '69 and then in countless other movies, TV shows and commercials. Steppenwolf's recording of Born To Be Wild was the first song to ever be inducted into the Rock and Roll Hall of Fame so it has taken on a life of its own.
KB: You were 19 when you played with Janis Joplin on her debut solo album "I Got Dem Ol' Kozmic Blues Again Mama!" How was it playing with her?
I played on the recording sessions for that album. It was produced by Steppenwolf's producer Gabriel Mekler. He used part of Steppenwolf for the basic tracks for the album. Jerry played drums and Goldy was on keys, and I played guitar. Don't recall who was playing bass for those sessions but it was just the three of us from Steppenwolf. Eventually many other musicians were used to finish the project. I do remember being in the studio when Janis came in to do a vocal on one of the songs. I remember the engineers scrambling to record her first take because they knew she was giving 110% and wanted that captured.
KB: You played in Detective with Michel Des Barres singing. How was it working with him?
Well, it started out great. I met him after living in England for a year. I was forming a band there with Roger Glover (of Deep Purple fame) at that time. Roger suggested I check out a singer that he liked for the project, so I went to see Michael in his band Silverhead playing in London. I didn't meet him then but when I moved back to the U.S. I did happen to meet Michael who was starting a new band and we began working together. We went through a number of band member changes until we had the main Detective line-up. We were rehearsing (this time at a big rehearsal complex called S.I.R). Jimmy Page came to see us there and shortly after we were signed to Swan Song/Atlantic Records.
KB: If you were to make an album with your 7 favorite songs: What songs would you pick and why?
These days I listen to a lot of old country…like Merle Haggard and others. I also love guitar jazz or jazz/rock fusion so I would probably pick from that.
KB: Are there currently artists out there that you would love to collaborate with?
I really appreciate great drummers, keyboardists and bass players. There are so many I wouldn't know where to start.
KB: You are part of the super group World Classic Rockers. Who else is in there and what songs do you perform?
I have been playing for over 25 years with the World Classic Rockers featuring former member of Journey (Aynsley Dunbar) and former members of Lynyrd Skynyrd (Randall Hall), Boston (Fran Cosmo), Santana (Greg Walker) and Steppenwolf (Nick St Nicholas). At one time of another we have also had from the Eagles – Randy Meisner, Spencer Davis (of the Spencer Davis Group), Vanilla Fudge and Rod Stewart band (Carmine Appice), Alex Ligertwood (Santana) and from Kansas (John Elefante). We are an 'all-star' band playing the hits from the 60's, 70's and 80's that we helped make famous. We have travelled all over the world and are still going strong.
KB: What are your future plans? Are you currently touring?
I moved to Florida about 15 years ago and when I'm not traveling with WCR, I play with singer Jimmy Peyton in the Peyton Monarch Band. We play locally and have put out an album worth of original music. We have had regional success with that including many local, radio chart topping songs. I also have a few all-instrumental CDs available on my website with more to come.
Check out Michael's website: HERE
Click Here to Order Boxing Interviews Of A Lifetime By "Bad" Brad Berkwitt