Leo Lyons: Ten Years After, Nina Simone, Woodstock, and More…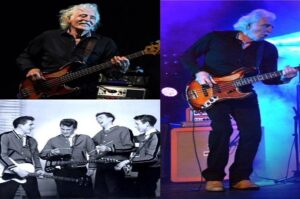 Exclusive Interview by Karen Beishuizen
Leo Lyons is the founder of The Jaybirds who later changed their name to Ten Years After. He worked with Nina Simone and played at Woodstock. He formed the band Hundred Seventy Split which is now called: Leo Lyons founder member of Ten Years After. They have a new album out in early 2023. Go Check It Out!
KB: Did you want to be a singer and musician when you grew up?
I was hooked on music from the age of five when I first heard Jimmy Rogers and Leadbelly on my uncle's wind-up record player. I bought my first guitar at the age of ten. I originally wanted to be a veterinary surgeon but couldn't face necessary extra years at school and university. I never dreamt of a career as a musician until, at aged 16, I was invited to join a popular hometown band who intended to turn professional. That was around 1959.
KB: Who were your favorite singers and bands when you were a teenager?
At first. Chuck Berry, Little Richard, Carl Perkins, Elvis, Buddy Holly, Eddie Cochran. Later it was Muddy Waters, Sonny Terry and Brownie Mcghee, Howling Wolf, Sonny Boy Williamson and Freddie King and many more
KB: You founded your first band The Jaybirds in the 60s and the name was changed to Ten Years After: How did you come up with this name? Does it have a meaning?
Our new manager thought we needed a name change. I'd seen an advert for a book about the 1956 invasion of the Suez Canal called 'Suez Ten Years After' I thought 'Ten Years After' would be an interesting band name. My colleagues agreed with me. The number 10 is an interesting number in the tarot signifying the end of a chapter and new beginnings. People always ask about the name.
KB: Bill Graham invited you to play Fillmore East and Fillmore West in 1967 and the band's debut album was released.
Bill Graham heard our debut album and invited us to play his venues if we ever came to the States. We arranged a tour based around the two Bill Graham venues Filmore East and West. We recorded our second record "Undead' to coincide with our first US tour. It was a dream for Alvin and me to visit the USA. Almost all our musical influences came from there. Playing shows there was an important part of the band's growth much the same way as playing 'The Star Club' Hamburg was in 1962.
KB: You played with Nina Simone: What kind of lady was she and how was it working with her?
We Played with Nina in St Louis Missouri the night before we played Woodstock. It was on a package called 'The Newport Jazz Festival on tour' She played just before us and ended her set with the song "I'm Black and I'm Proud'. We had to follow her on stage. The audience aside from a couple of people was mostly black It was a scary moment for us but fortunately the audience accepted us once they heard us play. What was Nina like? She was a great performer but not approachable.
KB: You played at 1969 Woodstock and had an encore! Tell me the story and how was it playing at this legendary festival? Ten Years After appeared for a full ten minutes in the Woodstock documentary. How does that make you feel when you watch it?
It was a privilege to have played at Woodstock but, for me at the time, it was just one festival of many that we played during that era. I loved the whole of the sixties/seventies and enjoyed every gig. Headlining a major venue like, for instance, 'Madison Square Gardens' NYC, The Budokan Tokyo and 'The Albert Hall' London for the first time was also big thrill.
When the Woodstock movie was released, it of course assured Ten Years After a place in history. I haven't watched the movie since 1970 and rarely listen to my own records. I consider myself very fortunate to have been at many of the places where musical history was made. I sometimes feel like the Forrest Gump of Rock and Roll.
KB: Besides a singer and musician, you also worked in recording studios as a producer, and I believe you own studios yourself? What is it about producing your own records that you like the most?
I've always enjoyed the recording process both as a player, engineer or producer. I've built several studios and also worked as Studio manager at Wessex studios London which is sadly no longer there. I enjoy the buzz of making a song come alive. I've produced, played on or engineered many records but I have a certain fondness for the three UFO discs I produced at a time I felt restricted within the TYA line up.
KB: You left Ten Years After in 2013 to form a new band Hundred Seventy Split: Why did you leave Ten Years After and how did you come up with the new band's name?
I felt needed to progress musically and it was not possible within the TYA way of working. I felt we were in a rut. At first 'Hundred Seventy Split' was a side project but was not popular with my former band mates so sadly Joe Gooch and I had to quit TYA. The band name "Hundred Seventy Split' was suggested to me by my son Harry. It's the name of a road junction in Nashville where Highway 70 and Highway 100 split. I lived on Highway 100, and we cut our first record there.
KB: If you were to make an album with your 7 most favorite songs (not your own): What songs would you pick and why?
That's an impossible question to answer. My favorite songs change all the time. I often play along with all kinds of music on You Tube or Spotify. I was a staff songwriter with Nashville publisher 'Hayes Street Music' for a number of years, so I'd probably pick some classic country songs. I love meaningful lyrics.
KB: What are you currently up to with your band? Touring, Recording?
I'm doing both. For 2023 we've changed the band name from 'Hundred Seventy Split' to 'Leo Lyons founder member of Ten Years After.' The reason being that, despite the fact we have a strong fan base and five successful record releases all making the top ten on Amazon, some people still don't connect me and my long career with the band name.
We have a new studio album finished and ready for release early in 2023.
Check out Leo's website: HERE
Find him on Twitter: HERE
Click Here to Order Boxing Interviews Of A Lifetime By "Bad" Brad Berkwitt