Ringside Report Looks Back at Former World Boxing Champion Injin Chi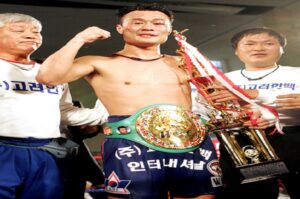 By Donald "Braveheart" Stewart
Attention is always given in sport to those "characters" who make a mark. "What we need is more characters" in the sport is a cry oft heard within the media as people look for headline grabbers so that the casual fan can be attracted, their cash parted from them, and the sport given wider appeal. It is understandable in an age where there are such competitive sporting attractions in the mix for both attention and the financial reward they need to survive.
But for us purists, what we truly acknowledge is skill in the ring.
One such quiet assassin in the ring, South Korean, Injin Chi, 31-3-1, 18 KOs, fought at bantamweight, super bantamweight and featherweight between 1991 and 200X holding the WBC featherweight title between 200x and 200f, twice.
His beginnings in the boxing ring began in the first grade at school as he needed to make money and his debut as a teenager was down to that need, that hunger more than the desire to become champion.
On the 20th of November 1991, in Seoul, Chi debuted in the professional ring by losing to another debutant in Tae Sun Park. And let's be clear, he was in exalted company, as Srisaket Sor Rungvisai and Bernard Hopkins and many others lost that first fight too! Mind you, his opponent never fought professionally again, apparently!
But, for those boxers out there who fear losses, although this was hardly a great start, here was a quiet man for whom that result may have grounded him sufficiently and he hardly seemed to be phased by it at all as he did not look back nor get beaten for the next 24 contests.
But belts followed and in Seoul on the 26th of March 1994, when he knocked out Han Kil Jo for the South Korean bantamweight title and then beat Jess Maca on points for the Oriental and Pacific Boxing Federation bantamweight title on the 23rd of March 1995. But Chi, unlike many who get to this point in their career, was still working construction. There were no riches in his rainbow. And given he never got to defend the title it was a belt he was unable to cash in.
But it did eventually lead to a challenge for the WBC featherweight title against the legendary Erik Morales on the 28th of July 2001 in Los Angeles in his first world title bout. He lost on points.
Then on the 18th of October 2003, in Manchester, England he got another shot, this time against Michael Brodie and managed a little better than the last time – he drew! But it never told the entire tale of the fight. In the first round, Brodie was deducted a point for illegal use of his head, then got dropped in the second. At the end of the fight, fifteen minutes after it ended, Chi was announced as the winner. And then they found a mistake in the scorecards. Two of the scorecards were draws and incorrectly counted up, whilst one other judge scored for Chi – it was a majority draw! Had Brodie not been deducted a point, the Englishman would have been world champion!
The following year on the 4th of April 2004 back in Manchester he got a rematch where he again went one better – beating Brodie by stopping him in the 7th round. He was now the WBC featherweight champion.
His first defense of his title was on the 24th of July 2004 at home in Seoul, he beat Eiichi Sugama by stopping him in the 10th round and then in his second defense beat Tommy Browne on the 30th of January 2005, in Seoul on points.
In 2006, the 29th of January in Fukuoka, he relinquished the title via split decision when he lost to Takashi Koshimoto. Koshimoto was to lose the belt in his first defense to Rodolfo Lopez.
Chi was not to be a former champion for long and in December of 2006, in Chungmu Art Hall, Seoul on the 17th, he beat Lopez on points to regain that belt. Chi dedicated that win to his daughter and then came talk of him facing Juan Manuel Marquez – yet another ring legend, but it was not to be.
Having won the world title not once but twice, Chi then relinquished – to pursue a career in kickboxing. Having made a competitive debut in 2008, in that arena we were never to see the man again in a boxing ring as a fighter.
Post fighting, he ran a boxing gym and was part of the gym responsible for the development of future world champion, Su Yun Hong.
Perhaps the highlight of his career came though when he opined that he would like to be remembered by fans for being "a good ring technician." For what else he was to say, you will need to buy "Bad" Brad's book! I aint gonna spoil it for you!