KB's Look Back at the 80's Music Scene: The Outfield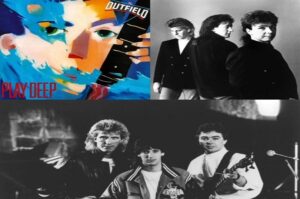 By Karen Beishuizen
Picture this:
London, England 1984
Bassist/singer Tony Lewis, guitarist/keyboardist and songwriter John Spinks and drummer Alan Jackman founded the band The Baseball Boys and played gigs in and around London. They got the attention of Columbia Records in America who signed them in 1984. The company liked their American sound.
The band's manager, an American living in England, came up with a new name as he thought The Baseball Boys was just ridiculous: The Outfield.
The debut album Play Deep was released in 1985 and became an instant success. The single Your Love entered the Billboard chart and peaked at number 6. They toured and opened for Journey and Starship.
In 1987 their second album Bangin' was released and did not achieve the success they had with Play Deep but it did come up with two Top 40 hits: Since You've Been Gone and No Surrender. The third album Voices of Babylon saw the light in 1989 with a different sound. It was a commercial success with the singles Voices of Babylon and My Paradise.
Alan Jackman left the band and the band continued as a duo. In 1990 their fourth album Diamond Days came out and the single For You became a top 30 hit. The song One Hot Country was featured in the movie If Looks Could Kill. The band released six more albums with the last one in 2011.
Fast Forward to 2023:
On 9 July 2014, John Spinks died of liver cancer. He was 60 years old.
Tony Lewis released a solo album Out of The Darkness in 2018 and was working on a new album when he died suddenly on 19 October 2020. He was 62.
Alan Jackman is the only surviving member of the band and is still making music.
Click Here to Order Boxing Interviews Of A Lifetime By "Bad" Brad Berkwitt