60 Seconds with Ten Sharp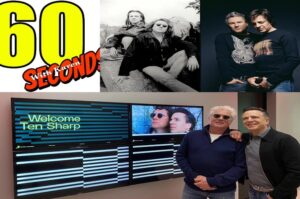 Exclusive Interview by Karen Beishuizen
Ten Sharp is a Dutch band who had enormous success with their 1991 song "You" from their debut album "Under The Waterline". It reached number one in many European countries. The band released all their albums on streaming platforms like Spotify, Apple Music and Deezer. Go check out their music!
KB: How did you come up with the band name Ten Sharp?
We started in the 80's as a five man band, playing rock oriented music. After some record companies showed some interest, we decided to change our name to Ten Sharp, (which means 'exactly 10 o'clock), a hint to experiences we had in the music business, were time seemed to be a very flexible indication.
KB: You are best known for the European hit "You": What is the song about?
It's just a love song. And the fact it's played on weddings and funerals shows us that love is still the most universal and timeless subject to communicate.
KB: You released all your albums on streaming platforms last month: What made you decide to do this?
We have had some troubles with our record company and that's why it took so long to get our albums online. But as real adults, we finally agreed on the terms for this online distribution. This online release is accompanied by the release of a vinyl compilation LP (Ten Sharp – Their Ultimate Collection).
KB: Is there anyone you would love to collaborate with and why?
Not really. We have created our own way of making music. Working with someone else would make it less Ten Sharp. But on the other hand, it could widen your horizon as well. To be honest, we don't have plans for a 'comeback' or new releases, so a collaboration is not really opportune. We are, however, still waiting for the one and only remix/remake of 'You'.
KB: If you were to make an album with your 7 favorite songs (not your own): What songs would you pick and why?
7 very different songs:
Niels:
God Only Knows (Beach Boys): Creation with capital 'C', unique melody line.
Since I 've Been Loving You (Led Zeppelin): White blues is possible, from the toes!
School (Supertramp): Perfection, piano, tension & release. A personal trigger to write music.
Crazy (Seal): Especially because of the production. I was such a fan of Trevor Horn, everything he touched turned to gold!
Woman In Chains (Tears for Fears): Also because of the perfect production, my other hero: Dave Bascombe
Marcel:
Find The Cost Of Freedom (CSN&Y): When I was very young, I always wanted to sing this song with others, because there so many beautiful vocal-lines
Walking In Memphis (Mark Cohn): I like the feel and emotion in this song so much. When we were in Paris to perform our song 'You' for a TV show (with orchestra), he was also performing in that show: Gorgeous!
KB: What music genre would you love to play but never had a chance to and why?
Singer Marcel always liked singing all kind of styles, and that's what he's doing right now, with lots of pleasure. For me, as a songwriter, I never felt a limitation in expressing my musical emotion: the Ten Sharp recipe suited me well.
KB: Will there be a complete new album with new songs in the future?
As said before, we don't have plans for new releases. Of course decision are never holy and final, it's just not our ambition right now.
Check out Ten Sharp's website: HERE
Find them on Facebook: HERE
Click Here to Order Boxing Interviews Of A Lifetime By "Bad" Brad Berkwitt