Lockdown, Lowdown… Ringside Report Looks Back at the TV Show Baptiste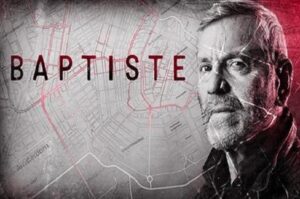 By Donald "Braveheart" Stewart
Tchéky Karyo is a phenomenal actor. Simply put, his appearance in both The Missing and Baptiste, made both series and heightened our appreciation for the actor who made his name in Europe but had the type of gravitas that could match and indeed blend with the likes of Fiona Shaw: Karyo was her very equal.
Forget Scandi Noir, this was a BBC production made just before the pandemic hit, which was a two series joy. The premise was fascinating. A spin off from the series, The Missing, Kaylo plays detective Julien Baptiste, who has undergone an operation on a brain tumor. He now suggests he is not the man he once was nor the detective who was so effective in The Missing. He as the man who found people with an unrivalled reputation for being incredibly astute and successful in reuniting lost people with their loved ones. Now he feels that he has an affected ability to perform that role, which makes him anxious and less than confident in taking on such roles.
But it's a series so is it likely he is going to remain resolute and defiant in refusing to help?
Hell now!
In series one, he is convinced to help the Dutch police find a 15-year-old enslaved sex worker. He meets the uncle; he joins the hunt, and he discovers the type of conspiracy that draws in some dodgy additional characters both from Holland and central Europe. Ultimately it is the dogy uncle who proves to be the key to the solution…
His new-found success leads to the second series where he is tasked with helping the British ambassador in Budapest, in post-Cold War Hungary, to find her missing family, lost whilst they were on vacation. Played by Fiona Shaw, the British ambassador, Emma Chambers joins Baptiste on an increasingly complex hunt for the people closest to her. It leads to some devastating home truths admirably absorbed by Shaw in a fantastic performance of nuance and effective stiff upper lip calm, as well as her character melting in the face of the truth. Baptiste, having managed to solve the complex mystery which includes a terrorist plot and an attempt to blame immigrants for the death of one character, Baptiste is told by Chambers to go home to France whilst her public confession over her family's sordid recent activities probably kill off her political ambitions.
And so, Baptiste came to a very satisfying end.
I referred earlier to Scandi Noir, and the dark crime genre which came to the UK and made a huge impact on us. There were people falling over themselves to praise Borgen, The Killing, and The Bridge and so many more examples of crime dramas from Denmark, Norway and the like. Stars were made outside of mainland Europe and the British television market – lucrative financially and in terms of the kudos brought by its approval – was seductive in equal fashion – both ways – they loved their success in the UK as much as we loved their importation.
They had an effect.
Home productions became just that little darker, served a little less gore and a lot more psychological trauma. However, in the end, our fascination with Europe was always going to be a bit of a niche market. The UK, after all, were about to turn their backs on it…
But, having said that, the BBC were aware that we liked to look across the channel for some of our detective-based angst. As well as Shaw, in the first series Tom Hollander popped up as the dodgy uncle, so British audiences saw familiar faces but the rest of the cast was mainly new and European. It brought authenticity – always a BBC ideal in drama – and we watched it with increasing admiration. Critically it was praised and the short runs – both series went for 6 episodes – were just enough to string out the complex plots but make them easily recognizable enough for the mainstream audience. Production values were high – as they ought to be for the BBC – and even though it was a spin off, it showed it had the right amount of narrative punch to make its own statement.
That there was never going to be a third series, was perhaps a bit of a disappointment for those of us who were Tchéky Karyo fans but it ended just where it needed to. In the US, you can catch it on PBS Masterpiece whilst in the UK, BBC I player has it pop up regularly.
British television is a curious affair. Begun through the British Broadcasting Corporation (BBC) it is funded through the universal license fee. In essence, if you wanted to watch the television, you had to pay the license fee. The BBC got it all and is state run, albeit at arms-length. Then came along commercial television in the form of Independent Television (ITV) in 1955. Designed to bring a bit of competition to the BBC, it was paid for through advertising but still free to air… well they didn't add another license fee to it. By the time that I was born, 1965, there was BBC1, BBC2 and ITV. And that was it. It was still years before Bruce Springsteen would moan that there were 55 channels and nothing on but here in the UK, we kept this going until, in 1982, we added a fourth channel and in 1997, a fifth. With sparkling imagination, they were called Channel Four and ehm Channel Five… In between came Sky and we understood what Springsteen meant. And so, my childhood and leading up to early adulthood we had three options… But the programs made were exceptionally good. And so, here is some critical nostalgia as the lockdown has brought a plethora of reruns, new formats and platforms and old classics trying to make their way back into our consciousness as broadcasters flood their schedules with classics… or are they classics at all? Let me take you through an armchair critics' view of what we have to see, to find out… Welcome to the Lockdown Lowdown…
Click Here to Order Boxing Interviews Of A Lifetime By "Bad" Brad Berkwitt