Q&A with Actor John Diehl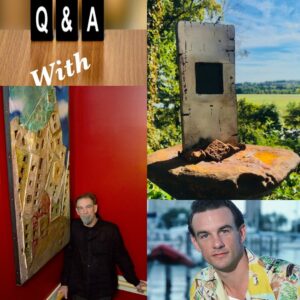 Exclusive Interview by Karen Beishuizen
We all know the 80s show "Miami Vice": John Diehl played Detective Larry Zito. He played an artist in Friday Night Lights but in real life John is an artist too. He is a theatre actor who performed on stage many times. Currently he is filming the show "Dark Winds".
KB: People know you best as Zito in Miami Vice: How did you get this part?
I remember I was doing a play in Los Angeles, for free of course, and I got this audition for a show called Gold Coast. I remember being really annoyed to go to this audition because I was missing some of the rehearsal for the play I was doing. I don't remember much about the audition or who was there, just that I was annoyed. Brandon Tartikoff who was the head of NBC at the time might've recommended me for the MV audition. I had done a short film called Leon's Case written and directed by Dan Attias. Dan had been working as a 1st AD with Steven Spielberg on most of his films and he was trying to upgrade himself as a film and television director which he did and is still doing. The story goes that Mr. Tartikoff had seen Leon's Case and so recommended me for the audition. I'm sure other people had to have a say about me getting hired for the Zito. Michael Mann for one, but I'll never know for sure. I believe a big part of it is being at the right place at the right time meeting the right person. Luck!
KB: You play an artist on Friday Night Lights: How hard was it to play this role when you are an artist yourself?
It was very exciting to get this role! I remember reading the script and thinking wow this would be really cool to do. But this was at a time when taping the audition was becoming more and more in vogue…the easier way for everyone except the actor as far as I'm concerned. It's just good to meet with the people involved in the making of the work and do the audition with a reader and hopefully one of the producers or the director would be there. (Of course, nowadays, I believe it's the most difficult for actors, the self-taping crap.
So, it's just you and the garbage disposal repair man or a friend next door or someone you just met that day at the grocery store to read the scene with you.) But even back when I did the audition for FNL, a lot of the taped auditions would have the director or a producer there. I remember for the FNL audition my agent or someone tells me that it'll just be the casting director taping the reading.
That really bugged me though, taping the scene with just the casting director and someone to read with! The scene I read was when you first meet my character and the script says that 'my guy' swings open wide his big corrugated shop door and he's naked except for boots. The young quarterback for the High School football team was the person knocking at the door. And because of this student's exemplary skill in art, he's been given the opportunity by the school to be the assistant for this asshole alcoholic artist which was me. Anyway, to make a long story short, I always thought that because of how the taping process worked sometimes, it's a lot easier for the powers that be to just get their cousin or one of the producer's boyfriends to do the role…I knew I had to make an impression to even be considered. So, I got a women's flesh colored floss panties at Walgreen's and painted and drew a penis, a couple balls and some pubes on the front part of the panties and then put some cool artist duds on. Went to the audition, stripped down in front of the casting director and did the scene. And I got the part.
KB: Is there anyone you would love to collaborate with in a movie or series?
My son, Magnus Jackson Diehl. He graduated from SUNY Purchase in 2015 with a BFA cum laude in Filmmaking. I've worked in some of his short films. They're very good. He's very talented. I would love to do a big movie with him or a TV series. And I believe that will happen.
KB: You acted on stage several times: What is your favorite play and why?
My favorite play. I was lucky enough to do 2 Samuel Beckett plays full out. "Endgame" with me as Clov and John Larroquette playing Hamm. And a production of Beckett's "Happy Days" which I directed. Works by Samuel Beckett are my classics. And plays by Sam Shepard were right up my alley too. Doing his plays was the stuff I was meant to do as an actor. The first play I ever did was Shepard's "Action" which was a one act play I did in a little black box 99 seat theatre in LA in 1979. Seventeen years later, I would do the same play at the Public Theatre in New York with Sam Shepard being the playwright resident at the time. The most difficult play I did was Shepard's "A Lie of the Mind" at the Mark Taper Forum in Los Angeles. Three acts, two intermissions, 8 shows per week. And it was one of the longer running shows in the Forum's history. The play was very dense and very demanding for the chops you had at the time.
But as far as a favorite play, I would have to change the title of Favorite Play to Where I Really Learned Acting. And that would be several years starting in 1979 working as an actor in a six-week playwrights' workshop intensive, the Padua Hills Playwright's Festival. It was started by Murray Mednick and Sam Shepard together with some other rock-solid writers for theatre. The various playwrights would invite actors to come and help them and the students who come from all over the country to participate in this playwright's seminar. The actors would receive a very modest stipend but what a blast it was to spend 6 weeks playing in the student writer's works during the week.
It was kinda like Peyton Place. The location was up in the Claremont area of Los Angeles in the beautiful Padua hills. There were living quarters on the large property. At the very end of the seminar there would be two weekends of one act plays written by the playwright/teachers during their six weeks there. The audience would come and each play was location specific so ushers would walk the audience around to where the next play would be. There would be anywhere from 5 to 7 sight specific plays. I didn't play on stage several times. I played on stages off-Broadway in New York's Theatre Row, in LA at a dozen different theatres, San Francisco, CA and Santa Fe, NM. And each play was an adventure. Doing theatre is the actor's real medium. Not movies and not television.
KB: Who is your favorite artist or painter and why?
That question's a little like, what was your favorite play? There's so many great artists and so many really good artists that I admire. some of my Uber favorites are Gonzolas Fonseca, Mark Rothko, Alexander Calder, Chaim Soutine, Egon Schiele, Edvard Munch and Richard Sierra.
KB: What do you prefer more: being an actor or being an artist?
Here's a quote by Samuel Beckett that I like because it speaks a little of how I am as an artist: "There is nothing to express, nothing with which to express, nothing from which to express, no power to express, no desire to express, together with the obligation to express. (that's mostly when I'm depressed)". I didn't go to school for art either so all the stuff I do is self-taught and that can be very frustrating at times. I like being an artist more than an actor but I'm able to make money as an actor.
KB: What are you currently up to? Working on something new?
Currently, I'm working on a TV series, Dark Winds and they're shooting in and around Santa Fe. Which works out good for me now that I live in New Mexico. Sta. Fe is an hour and a half from where I live. I have a few of my pieces in an art gallery in Sta. Fe. Next week when I'll be finished with my work with the series, I'll hop back in my shop and start making stuff again.
Check out John's website: HERE
Find him on Instagram: HERE
Click Here to Order Boxing Interviews Of A Lifetime By "Bad" Brad Berkwitt