Ringside Report's Fight Report of Recent Results and Upcoming Bouts Around The World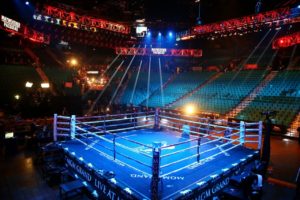 By Donald "Braveheart" Stewart
As easy as 1, 2, 3 or A, B, C here we have what happened, what is about to happen and what is due to happen in the boxing world from the perspective of a fan with a laptop, in the heart of Scotland. Three fights, all being talked about and talked up and not all for obvious reasons.
Flash Back – Ringside Report's Rear View Mirror – one fight from the week past from a Scottish angle (Look it up on a map…)
UK – biggest and most notable – what should be the biggest news in the UK boxing scene.
Saturday 11th February
In Texas the WBC super featherweight title fight
Rey Vargas L pts O'Shaque Foster, whilst in Cardiff, the British and Commonwealth bantamweight title fight
Sean McGoldrick W pts Scott Allen.
Rey Vargas went into this fight as the favorite but came out as the vanquished as O'Shaque Foster outpointed him to take the vacant WBC super featherweight title. Foster produced a level of boxing that will be eye catching to the others in the division as he darted in and out early, took on Vargas' adjustments, came back with fresh thinking and then produced what was needed going into the final three rounds.
It was a masterclass in how to box, weave and win.
Vargas looked jaded as he finished the final rounds and just how much he has left in the tank is to be questioned.
My View
I wasn't quite on the money thinking that my old mate, Scott Allen would be crowned the British and Commonwealth champion at bantamweight, as he lost on points to Sean McGoldrick in Cardiff. I watched the fight and Allen, filled with tricks old and new, managed a decent showing but it was not enough.
But, in Houston, O'Shaque Foster lit up the boxing firmament instead. Of course, there shall be some calling for unification fights but for the moment, Foster should take a simple defense, take a breath, and then survey the landscape. Big money fights are out there if he wishes them.
As for Vargas, who remains the WBC featherweight champion, with a big fight this weekend in the UK at his weight, both boxers shall be looking at Vargas, especially how he looked on the final three rounds, and thinking he may be plump for the plucking…
Fast Forward – the week to come as viewed from one side of the Atlantic
UK – biggest and most notable – what should be the biggest news in the UK boxing scene.
Saturday 18th February
At the Nottingham Arena, making his comeback to the ring is the WBA featherweight champion, Leigh Wood facing Mauricio Lara in his hometown.
WBA champion, Leigh Wood dons the gloves, and climbs into the hometown ring to take on hard punching Mauricio Lara in a defense many are calling risky and most believe that should Wood come through he shall join the very elite at the top of the game.
Lara is well known to UK fans as he beat Josh Warrington and then in a short rematch ended with a huge cut and a draw for his return to the UK. Warrington is in the wings waiting to see who comes through and either fighter against the Leeds based warrior would be a tasty fight.
But before we get to that, we have the intrigue of a boxer like Wood taking on the highly dangerous Lara. Lara can bang, as he showed in his first fight with Warrington. His ring skill is not at the standard set by Wood but he can target you and get you out of there. He has an awkward style that can make it difficult to break down, but Wood has been in the trenches before and survived. When he beat Michael Conlan, he was heading towards a defeat. And then in that final round produced a showreel knockout that became one of the favorite moments of most journalists' year. If he needs to, he can come from behind or take punishment and box back cleverly. Wood is also very annoyed that the fight, which was due to happen in September of last year but was postponed due to Woods sustaining an injury has seen Lara question that injury and suggest Wood faked it – Wood is not a happy man.
My View
This is indeed a very dangerous fight and as it is a voluntary defense, you might want to question why Wood would take on such a dangerous fighter, but this is really legacy talking. If Wood comes through this, in his hometown, as world champion he is a legend. If he fails, there are plenty who can talk about a step too far but he will come out with some credit, giving him a platform to then take forward a career which could have been halted by a loss to a lesser opponent.
I think he shall box clever, weave and bob and manage to handle the tough as teak Lara. An all British clash between two sporting towns that are rivals in soccer, Leeds and Nottingham appeals to more than just the two pugilists: that is what makes this a prospect with additional spice. There is also a score to settle between Lara and Warrington as Warrington did not get to avenge his defeat so if Lara wins there is a tasty fight there too. The narrative for all of this is really good and in the interim, I think a very decent fight shall break out this Saturday with Wood winning but having to survive some scares to do so.
Future History – and the week to follow…
UK – biggest and most notable – what should be the biggest news in the UK boxing scene
Sunday 26th February 2023
In Diriyah, Saudi Arabia, there is the WBC cruiserweight title on the line between champion, Ilunga Junior Makabu and the veteran challenger, Badou Jack.
Click Here to Order Boxing Interviews Of A Lifetime By "Bad" Brad Berkwitt