Lockdown, Lowdown… Ringside Report Looks Back at the TV Show Hinterland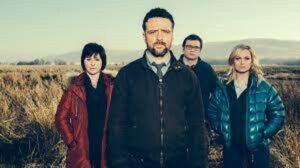 By Donald "Braveheart" Stewart
The emergence of a language, long hidden amongst the valleys of its speaking, like Scots and Gaelic in Scotland, Welsh found its natural home in broadcasting. There is a dedicated Welsh speaking channel – S4C – under the Channel Four banner which has kept the language present in the homes of children and schools. But Hinterland was all adult. A TV detective series that had – a flawed central character – was hardly something to visit the valleys to discover but the dark brooding nature of him, the landscape, so reminiscent of so much in Scotland, meant that this was a series that touched more than a nerve – it brought home the idea of what works best is what works.
Hinterland – Y Gwyll in Welsh – was created by Ed Talfan and Ed Thomas and filmed in Wales to be broadcast on both S4C and the BBC, and it ran from 2013 to 2016 for 3 series and 26 episodes. Each scene was unusually shot twice – first in Welsh and then in English. S4C showed the full Welsh version whilst BBC Wales showed the English language version which retained some of the Welsh language – but added subtitles – to retain some authenticity.
It starred Richard Harrington as the Welsh Detective Chief Inspector Tom Mathias who along with Detective Inspector Mared Rhys played by Mali Harries, Detective Constable Lloyd Elis played by Alex Harries, Detective Sergeant Siân Owens played by Hannah Daniel and Chief Superintendent Brian Prosser played by Aneirin Hughes solved the darkly brooding crimes brought to their attention.
With each series lasting an even number of episodes each there was a consistency of approach: mysteries spread over two episodes each to solve them. Central was Mathias, the DCI. Series 1 began with him starting his new job which led to what seemed like an impenetrable case involving a children's home. It was both multi-faceted and challenging for the audience and this characterized how things were for the rest of the series. Subject matter was always dark, the landscape added to the drama and the spooky nature of the investigation, and though there was nothing supernatural about any of the mysteries, there was always a feeling that we were witnessing something which had other worldly qualities about it.
There followed an investigation which took us back to Prisoner of War Camps in the Second World War, before by the end of the first series, Mathias personal and professional relationships take their toll as one family secret after another is exposed in the solutions, he finds to the baffling cases he investigates. By the beginning of series two, Mathias' reputation is all but ruined as he struggles to find a way forward for himself but still proves himself time and again in the field of crime solving. Being investigated himself, things take a turn when his ex-wife turns up and again his personal and professional life prove intractable. As he begins to find a solution to his own lifestyle choices increasingly his investigations take him into the realms of alternative choices for victims or those associated with them. By the end of the second series, he has now one more unwanted attraction with which to deal – a stalker.
The third series continued to tangle and untangle but by now there were creaks and creases that were unable to be ironed out. It's not that we lost faith in the central character, but we needed more than flashes of brilliance and brooding in between. It needed some lightness of touch.
It was not to get it.
Series three saw the overarching narrative include some uncomfortable moments for Mathias and his team. There is evidence that a historic child sex ring operated locally and the people who were involved are not just in positions of respect now, they are close to home. By the end of the series the final arrest, of a man he once respected more than any other in the force, is a tragic end to Mathias' tale. It was a narrative that grew from the new man arriving in the new town, his rise and his breakdown, his cracking of complex evil amongst them and then finally an inner examination from which the damaged Mathias may never fully recover. It also included him being kidnapped so there were plenty of examples of things going a little awry throughout.
Hinterland finished and got exported throughout the world. It was a really successful piece of work though it was never that well known. I loved it. The way that the landscape told its own story worked so well and the inclusion of Welsh struck a chord. I may know no Gaelic but have Scots as my mither tongue, but the Welsh have a heritage which was modernized and given a 21st century platform in Hinterland. It stood the test of modernity and shone.
However, it was ready to finish as a series by the end of the third run. We had felt that Mathias had gone as far as he could, and the time was just right to stop.
Mind you, as a character I would much rather find out what happened to him more than any detective from Death in Paradise…
British television is a curious affair. Begun through the British Broadcasting Corporation (BBC) it is funded through the universal license fee. In essence, if you wanted to watch the television, you had to pay the license fee. The BBC got it all and is state run, albeit at arms-length. Then came along commercial television in the form of Independent Television (ITV) in 1955. Designed to bring a bit of competition to the BBC, it was paid for through advertising but still free to air… well they didn't add another license fee to it. By the time that I was born, 1965, there was BBC1, BBC2 and ITV. And that was it. It was still years before Bruce Springsteen would moan that there were 55 channels and nothing on but here in the UK, we kept this going until, in 1982, we added a fourth channel and in 1997, a fifth. With sparkling imagination, they were called Channel Four and ehm Channel Five… In between came Sky and we understood what Springsteen meant. And so, my childhood and leading up to early adulthood we had three options… But the programs made were exceptionally good. And so, here is some critical nostalgia as the lockdown has brought a plethora of reruns, new formats and platforms and old classics trying to make their way back into our consciousness as broadcasters flood their schedules with classics… or are they classics at all? Let me take you through an armchair critics' view of what we have to see, to find out… Welcome to the Lockdown Lowdown…
Click Here to Order Boxing Interviews Of A Lifetime By "Bad" Brad Berkwitt