Ringside Report's Fight Report of Recent Results and Upcoming Bouts Around The World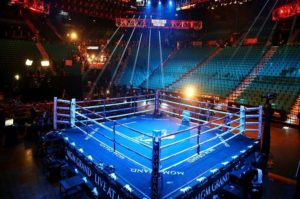 By Donald "Braveheart" Stewart
As easy as 1, 2, 3 or A, B, C here we have what happened, what is about to happen and what is due to happen in the boxing world from the perspective of a fan with a laptop, in the heart of Scotland. Three fights, all being talked about and talked up and not all for obvious reasons.
Flash Back – Ringside Report's Rear View Mirror – one fight from the week past from a Scottish angle (Look it up on a map…)
UK – biggest and most notable – what should be the biggest news in the UK boxing scene.
Sunday 26th February 2023
In Diriyah, Saudi Arabia, the WBC cruiserweight title
Champion, Ilunga Junior Makabu L Badou Jack TKO12
Time stood still for Badou Jack last weekend as he took his third weight world title at the age of 39 years young! Ilunga Junior Makabu was down twice in the fight – in the 4th and 11th rounds – before he finally hit the canvas in the 12th and the fight was stopped.
This was record breaking – Jack won his third division world title and became the very first Muslim boxer to win a world title in Saudi Arabia and also the first ever boxer to win major titles as a super middleweight, light heavyweight and cruiserweight. Very few, having seen Jack fight at cruiserweight, thought he would do it, but plenty also thought that Makabu's 3 year run as champion was likely to come to an end.
The fight saw Jack make a decent start after a cagy opening round and having Makabu on the canvas in round 4 gave him plenty of confidence. The middle rounds proved his dominance and as he approached the championship rounds, the boxing ability of Jack had him clearly in the lead. The scrap which would have favored Makabu was not on offer, though he did try and make a fight of it in rounds 8 and 9.
The final 3 rounds were all Jack as he started to dominate and then floored Makabu in the 11th. The end, which Makabu was aware was in sight and he needed a knockout, came in the reverse with Jack finishing off the man who has now relinquished a belt that has been elusive for some of the main guys and can now be added to the mix for world leading contenders.
My View
It began as an underwhelming fight, and probably ended as the fight of the night. As for the future, if I were Jack, I would avoid the other champions, Arsen Goulamirian, Jai Opetaia and the UK's Lawrence Okolie for now. I would take a voluntary and make some cash. Whilst I thought unification for the winner was the best option, for Jack it might just be one last hurrah and roll of the dice. I would like it to be one that keeps himself for the future given the level of service he has given to the sport of boxing.
Fast Forward – the week to come as viewed from one side of the Atlantic
UK – biggest and most notable – what should be the biggest news in the UK boxing scene.
Saturday 4th March
In Newcastle, England there is a super lightweight contest for no belts but plenty of intrigue between local boy, Lewis Ritson and southerner Ohara Davies.
This is all about two fighters who were once the darlings of the British boxing firmament who are now jaded. Their stars have not faded but their appeal is not quite what it once was.
Lewis Ritson blasted everyone out within the first few rounds at lightweight and was, according to Eddie Hearn, the biggest thing in the lightweight division since he pronounced the last big thing. But like a few of the Matchroom fighters who were the next big thing, Ritson was flattered and deceived. He got to European level and then lost, a humbling European title defeat to Francesco Patera.
His return to the fight game has not been without its problems as he had a dodgy win against Miguel Vazquez and then another hurtful loss to Jeremias Ponce. He could have gone down and licked his wounds, retreating to whence he came but the Lonsdale belt owner was not to be cowed and has come back with vengeance. Davies is now in his sights.
As for Davies, his loudmouth got him noticed until, in his own words, Hearn threw him under a bus and left him to flounder against Josh Taylor. He appeared for that fight without any entourage or support from Hearn who was his promoter and lost badly. The mouth got zipped and he started to rebuild. That rebuild has only seen one defeat – to Jack Catterall, the man who should be world champion…
And so, both are now rebuilding but with very good wins behind them. It's home advantage for Ritson as they both face off in what is a real crossroads occasion.
My View
I like Ritson much more than Davies but that may have a lot to do with the humility shown by Ritson as he rose rather than the brashness of Davies. I like humility in a boxer. The home crowd is also likely to be an advantage, but Davies has come up the road to be an away fighter and deserves massive credit for this. I may not have liked him in the past but something tells me that the Geordies might be over confident going into this one. Davies has got some real ability whilst Ritson spent a great deal of his time using power to win. This might not end up with a home win but I think if it does it will be very, very close. I think though, Davies might just steal the limelight once more.
Future History – and the week to follow…
UK – biggest and most notable – what should be the biggest news in the UK boxing scene
Saturday 11th March
In Paris for the EBU light heavyweight belt, Brit and British champion Dan Azeez goes across the channel to face Thomas Faure.
Click Here to Order Boxing Interviews Of A Lifetime By "Bad" Brad Berkwitt