Lockdown, Lowdown… Ringside Report Looks Back At the TV Show Luther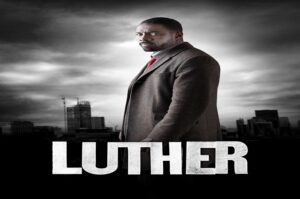 By Donald "Braveheart" Stewart
Idris Elba – National treasure, the first Black Bond? Elba is certainly the former but time is no longer in his side to achieve the latter…
Whatever your view of the colossus that is Elba, he is also an edgy, dangerous looking actor who commands respect because his presence on screen tells you that what you are about to watch may be worthy of your attention.
This is so true of the television series, Luther. With 5 series and 20 episodes, it was a bit of a juggernaut for Elba and commanded not just huge viewing figures but a massive amount of positive press – why? It was just that good.
Running from 2010 to 2019, there is now a film, which has been eagerly anticipated by those of us who got so hooked on the series.
The premise was unusual. DCI John Luther, played by Elba, takes an unorthodox approach to crime fighting, acting like a law unto himself. The thing is that he is usually right and though he does almost always get his man, that unorthodoxy means it is quite tricky to make the case stick.
Along the way DCI Luther strikes up a friendship with Ruth Wilson played by Alice Morgan, who is a murderer and begins quite the complex relationship with him. This relationship acts as a narrative arc and structure for the series to run under.
It is that dark psychological element which has gathered such a following. That darkness is doubled down upon as Luther cannot escape the impact of each crime, he investigates he becomes obsessed and caught up in the darkness of each act. It consumes him and with that in mind his relationship with Morgan makes complete sense… Their meeting in the very first case we are exposed to in series one frames all that happens thereafter. He knows she did it – but cannot prove it. It leads to her helping him catch who killed his ex-wife and then he helps her escape incarceration and flee the country. Not the usual plot for a crime series…
Luther continues to bring chaos and concern until his partner and protege Justin Ripley is killed and Morgan reappears. In the process of this new investigation, Morgan convinces Luther to leave the bright lights and big city atmosphere of London and we next find him in a reclusive state down by a coast refusing to get involved any more in any more of the nonsense that is investigating crimes.
Until…
It looks like Morgan has been killed and Luther is drawn back in to find out the truth. Of course, spoiler alert, she ain't dead. She faked her own death because life with Luther was not what she wanted it to be… the policeman is dumped by the criminal…
We embark on a collision course with a violent ending…
There were some giants of British television in each series including Indira Varam as his ex-wife, Zoe, Paul McGann, Saskia Reeves, Warren Brown, Dermot Crowley who played his long-suffering boss DCI/DSU Martin Schenk, Pam Ferris, Hermione Norris, Patrick Malahide as crime boss, the sinister George Cornelius and Michael Smiley as DS Benny Silver.
This was a BBC series that can be caught on BBC I Player in the UK or on BBC America, though an American crossover series nearly happened, it has been adapted in Russia, South Korea, France and India. It seems they like their TV detectives flawed too.
This was Elba's best work on the small screen since the Wire, which is really saying something. It was tremendously good. It had darkness throughout and though the sojourn to the coast did take us out of equally brooding London, it worked well in the end. This had a brilliant cast, superb storytelling and took the boundaries and blew them away. Often you could get quite critical of elements of it, but I do think this was down to the quality on display being of such a high caliber that it became quite the thing to be upset when its own high standards were dropped. As a whole it stands as a unique testimony of taking the brooding flawed detective and placing him on another level to its ultimate extreme without falling off a cliff in terms of believability. Luther worked and I am now excited to spend the time watching the film version – just like I was over Donovan and that is high praise indeed.
British television is a curious affair. Begun through the British Broadcasting Corporation (BBC) it is funded through the universal license fee. In essence, if you wanted to watch the television, you had to pay the license fee. The BBC got it all and is state run, albeit at arms-length. Then came along commercial television in the form of Independent Television (ITV) in 1955. Designed to bring a bit of competition to the BBC, it was paid for through advertising but still free to air… well they didn't add another license fee to it. By the time that I was born, 1965, there was BBC1, BBC2 and ITV. And that was it. It was still years before Bruce Springsteen would moan that there were 55 channels and nothing on but here in the UK, we kept this going until, in 1982, we added a fourth channel and in 1997, a fifth. With sparkling imagination, they were called Channel Four and ehm Channel Five… In between came Sky and we understood what Springsteen meant. And so, my childhood and leading up to early adulthood we had three options… But the programs made were exceptionally good. And so, here is some critical nostalgia as the lockdown has brought a plethora of reruns, new formats and platforms and old classics trying to make their way back into our consciousness as broadcasters flood their schedules with classics… or are they classics at all? Let me take you through an armchair critics' view of what we have to see, to find out… Welcome to the Lockdown Lowdown…
Click Here to Order Boxing Interviews Of A Lifetime By "Bad" Brad Berkwitt