KB's Look Back at the 80's Music Scene: China Crisis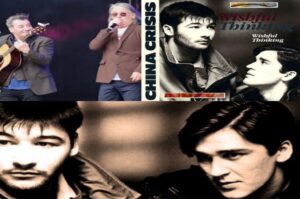 By Karen Beishuizen
Picture this:
Kirby, Merseyside, England 1979
Gary Daly and Eric Lundon are playing in various post-punk groups in the Merseyside area. In 1980 they get a synthesizer and drum machine and start making their own music. OMD and Depeche Mode are big influences.
In 1982 they signed a recording contract and their debut studio album "Difficult Shapes & Passive Rhythms, Some People Think It's Fun to Entertain" was released in November 1982. The song "Christian" went to No. 12 in the UK charts and brought them international success.
Their second studio album "Working with Fire and Steel – Possible Pop Songs Volume Two" was released in November 1983 and gave them their only UK Top 10 hit: "Wishful Thinking" which was a big success in Europe, so was the album.
Steely Dan's Walter Becker produced their third album " Flaunt the Imperfection in 1985. The single "Black Man Ray" was successful across Europe.
The following albums were good but nothing more than that. From 1992 the band released compilation CDs and Live DVDs.
Fast Forward to 2023:
Eddie Lundon teaches song writing at The Institute for the Performing Arts in Liverpool and Gary Daly released his solo album "Gone From Here" in 2019 and in 2020 his second "Luna Landings".
In 2023 they are touring across Europe and America.
Click Here to Order Boxing Interviews Of A Lifetime By "Bad" Brad Berkwitt