Q&A with Artist Pedro Diego Alvarado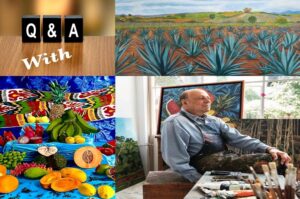 Exclusive Interview by Karen Beishuizen
Pedro Diego Alvarado is the grandson of legendary Mexican painter Diego Rivera. Just like his granddad he is a painter. His mother was the famous architect Ruth Rivera Marin. Pedro Diego just had a solo exhibition in Mexico and currently works on various projects.
KB: At what age did you start to paint?
When I was 20 years old, I was studying photography when I discovered Henri Cartier -Bresson drawings and went to Paris and joined the Beaux Arts Academy and Cartier -Bresson became my mentor.
KB: Your grandfather is the great Diego Rivera. You were 1 year old when he died. Did his work influence you in your work?
My grandfather, Diego Rivera, influenced me in the sense that I realized that I had to go through the long process to learn the painting technique and develop my own practice
KB: Is his legacy a burden or an advantage for you?
At the beginning of my painting career, it was a burden, nowadays it is not an advantage since I use my different last name.
KB: What is your favorite style in painting and why?
My favorite style is the painting depicting nature, I think nature is the great master.
KB: Who are your favorite painters and why?
My favorite painters are Cezanne, Matisse, Van Gogh, Giacometti, Rivera and Balthus because all of them developed a sincere and intimate way to paint that brought on a new representation of nature.
KB: There is a new documentary about the life of Frida Kahlo in which is said that your grandfather assisted her in dying. What is your opinion about this?
Frida was suffering too much, and Diego assisted her in dying with an overdose of morphine
KB: If you could make a top 5 of favorite paintings (not your own): What would you choose?
My 5 favorite paintings are Cezanne's Portrait of Madame Cezanne, Matisse's Red Studio, Van Gogh's Flowers in a Cherry Tree, Giacometti's Portrait of Annette, Balthus's The Three Sisters and
Rivera's Nude with Callalilies. All of them represent a personal representation of nature.
KB: What are you doing currently? Do you have upcoming exhibitions?
Currently I am working e on a version of Various Fishes and a composition with coffee as a subject for a coffee cultivator. I just had a solo exhibition us San Miguel Allende, Mexico.
Check out Pedro Diego's website: HERE
Find him on Instagram: HERE
Click Here to Order Boxing Interviews Of A Lifetime By "Bad" Brad Berkwitt